Tiverton 24 Winscombe 19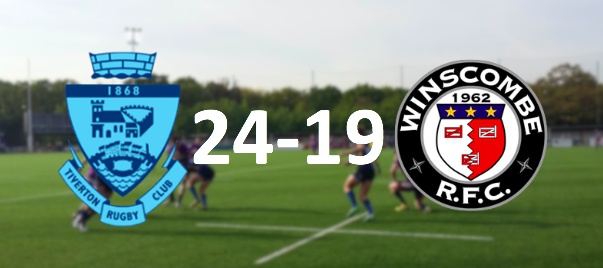 Tiverton coach Jon Hill is "delighted" to get back to winning ways in what looked like being a 5 star performance.
Speaking about his sides performance, he said: "come the middle second half, we were clinging on and then had to show some undoubted character to build some momentum at crucial moments to get over the finishing line.

"Credit to Winscombe who clawed their way back into the game and kept the ball tight to the breakdowns in a forward orientated performance. We really struggled to gain field position and possession into the wind in the second half, and spent long periods defending wave after wave of Winscombe drives, pick and go's and carries around the fringe.

"I was really pleased with our attacking intent at the start of the game and at 17-0, we had opportunities to put the game beyond the opposition, but failed in our execution and our shots at goal. The pace and width that we generated was the key difference and our outside backs saw a lot of ball. Contrastingly, our winger Tom Heard didn't touch the ball in the second half!!

"Still, a win is a win, and we are sitting fifth in the table after the first block of fixtures. We have a lot more improvement in us, and the challenge now is to push on and improve as a team."

Man of the match went to back five forward Blake Lugg, however there were very notable performances from Ben Vickery and centre and try scorer Greg Mills.