Tiverton remain unbeaten with draw
Tiverton remain unbeaten with draw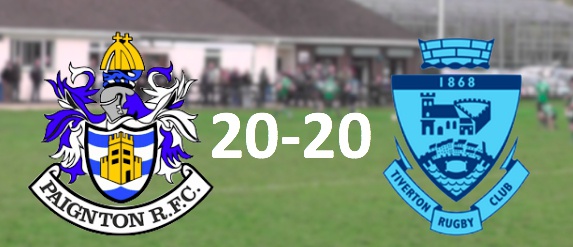 Tiverton Rugby Club leave Paignton "disappointed" despite hard fought draw.
The Devon side remain unbeaten in the 2018/19 season.
Tiverton try scorers were Matty Down, Henry Frankpitt and Will Luxton with a con and a pen from Matty Down. Man of the Match went to Centre Greg Mills.
Reflecting on the encouter, Tiverton head coach Jon Hill said: "Whilst disappointed not to have won the game, we are satisfied that we are still unbeaten and have improved on our return from our two games against Paignton last season.

"We looked lively and outscored Paignton three tries to one , so the draw itself is a little hard to take. Our penalty count was our Achilles heal, and something for us to look at moving forward. Defensively we were once again impressive , and worked very hard for each other, showing a lot of pride in the shirt which is a great team quality and one that we must harness.

"It was once again a big team effort with everyone contributing, but mentions must go to number 8 Ian Brewer, Fly Half Matt Down and Man of the match and centre Greg Mills for their Impressive performances. Matt Down controlled play well and scored from distance. Brewer carried really well, often against a stacked defence, and Mills was superb with and without ball in hand.

"The early signs are good, but we need to learn from the experiences , and having been 20-9 up away from home, we need to look at how we didn't close the game out. Saltash at home is now a big focus for us and we look forward to welcoming player backs coach Mark Schofield and prop Matt Reed back into consideration for selection.

"Reed impressed in the 2nd xv victory over Paignton (12-10) , and could be joined by 2nd xv man of the match Chris Powell, fresh out of the colts, who looked dangerous in the midfield."