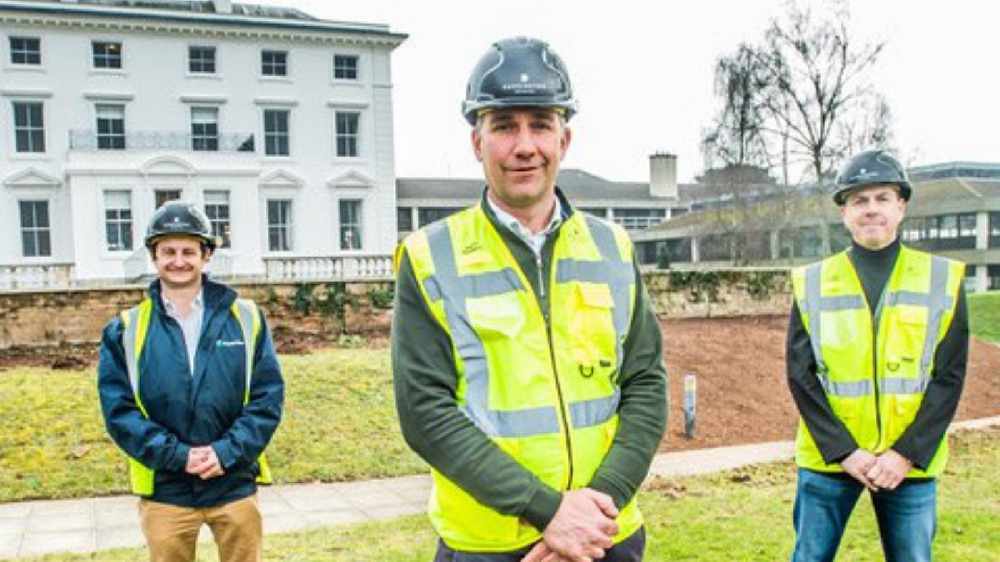 Matt Baker, Jurassic Fibre; Matthew Bennett, Burrington Estates; and, Steve Garrood, Jurassic Fibre.
Jurassic Fibre's first 10Gbps installation
Broadband provider Jurassic Fibre has installed its first 10Gbps connection at Winslade Park on the outskirts of Exeter.
The business park, which is set to generate around 2,000 sustainable employment opportunities, was connected to Jurassic Fibre's cutting-edge network earlier this month.
With a 10Gbps connection from Jurassic Fibre, businesses will benefit from faster and more reliable connectivity, with access to a local customer support team based in Exeter.
Winslade Park is being developed by property group Burrington Estates. Once completed, it will provide flexible offices, new homes and health and wellbeing facilities, including a gym. It is the largest development of its kind in the south west.
Jurassic Fibre has future-proofed the network of the site to allow new buildings to be installed in line with expansion plans. CEO and founder of Jurassic Fibre Michael Maltby says: "Fibre is to the 21st century as the railways were to the 19th. It is the fundamental requirement for all businesses.
"We are very pleased to be able provide ultrafast full fibre to this unique development. It's vital that businesses have access to reliable connectivity in order to thrive and compete at a national level. Our aim is to expand our infrastructure to communities across the South West, enabling gigabit speeds, along with offering the best customer service and local support."
Founded in 2018, Jurassic Fibre was created to address the digital inequality currently experienced by communities in the south west, which have previously been overlooked by other broadband providers. The Exeter-based company is armed with a £250 million investment from Fern Trading, advised by Octopus Energy, to build its own network across Devon, Somerset and Dorset, which will be the first of its kind for the region. Its goal is to provide full fibre connectivity to over 350,000 properties over the coming years.