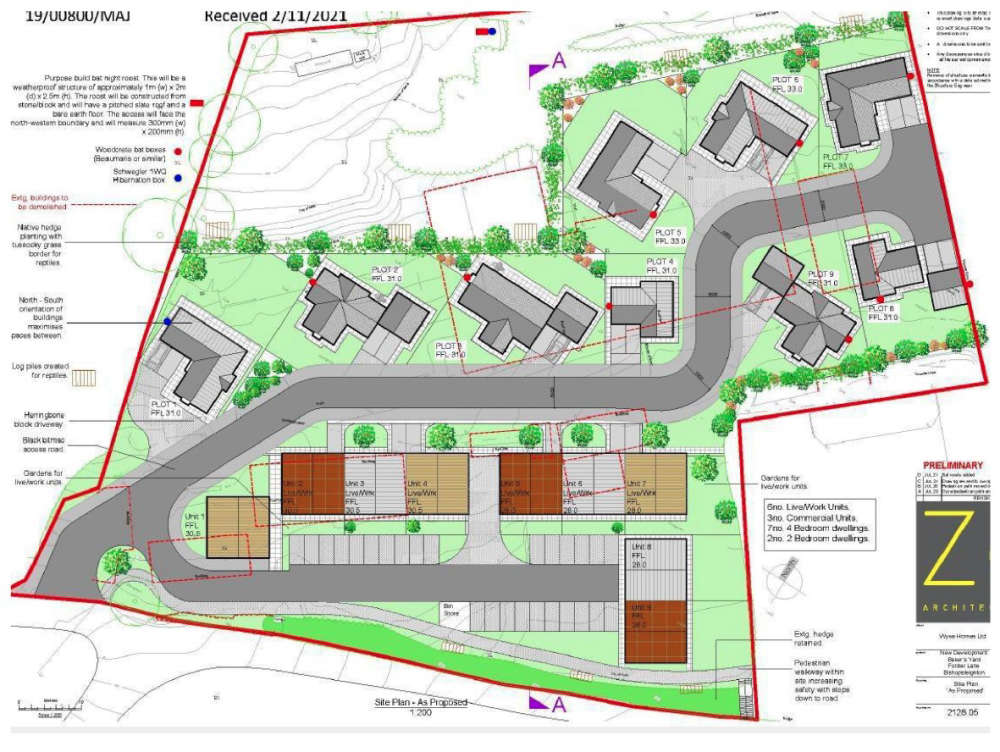 Concerns about road safety
Plans for a new residential and commercial development in Bishopsteignton have been turned down following concerns about road safety.
Developers were seeking outline planning permission for three commercial units, six mixed 'live-work' units and nine open market residential dwellings on derelict land known as Bakers Yard on Forder Lane.
But councillors on Teignbridge District Council planning committee raised concerns on Tuesday about the lack of a pedestrian route between the development and the centre of Bishopsteignton.
Speaking against the proposal, local resident James Hanafin said: "One of the many unresolved issues, totally ignored in this application, is the lack of a footpath and cycle path leading to the village, which is possibly one of the most important."
Mr Hanafin drew the council's attention to concerns expressed by officials at a local and county level.
"Both Devon County Highways and Bishopsteignton Parish Council have consistently – and with good reason – objected to the lack of footpath," he said.
"Many people, both residents and visitors alike, use the single lane road with blind corners as a walkway into the village, as parking is an extremely limited luxury.
"No consideration is given to non vehicular traffic."
Devon County Highways had already recommended that the application was refused, saying: "This type of development will generate the need to travel by foot to everyday amenities such as schools, doctors, shops, etc.
"As Forder Lane is expected to carry HGVs – and the physical width for the lane – will mean that vulnerable road users will be pushed to the edges."
The applicant, Wyse Homes, was represented at the meeting by Tony Horsey from the property development management company Ortus.
Mr Horsey challenged the suggestion that the development was not wanted by locals and said local people supported the Local Development Plan which had included details of the proposed site.
"This is a prominent gateway site that's been derelict for 30 years and the development plan, with proposals specifically to redevelop this site, was adopted with an 85 per cent vote," he said.
"That's a huge majority by any measure. So democratically the residents of this village want this site to be brought forward."
In an unusual use of statistics, Mr Horsey used figures from the 2011 Census to suggest the proportion of villagers opposed to the development was very small.
"The vocal two per cent of objectors would have you believe that to approve this application would be to damage the landscape. It wouldn't," he said.
"This is a reserved matter. This is something that would be dealt with by your officers under your scrutiny following a later application.
"They would have you believe that the development is overbearing. And again, there is no detail en masse or scale presented in this application."
But it wasn't just local campaigners against the development. Cllr Janet Bradford (South Devon Alliance, College Ward) also highlighted potential problems for pedestrians.
"I think that this probably is not the right development for this," she said.
"The road leading to the access of the site Forder Lane hasn't got a pavement. There are many objections, not least from the parish council. And I've got a lot of concerns about the access and the road."
Anti-Violence & Positive Politics group leader who represents Bishopsteignton, Cllr Andrew MacGregor, argued the lack of safe pedestrian access to the village was one of the most important considerations.
He said: "In terms of the safety, the public safety, I note that highways have not removed their objection at all on the safety of pedestrians using Forder Lane to get into the village.
"Now, that would require for a safe journey into the village to be done by car.
"So if we're going to have comments like: 'Oh, we want to minimise use of private cars,' then that just seems contrary to the whole common sense and rationality of reducing transport."
An amendment was agreed to refuse permission because of concerns expressed by Devon County Highways.
The plans were finally refused on the grounds of highways safety.