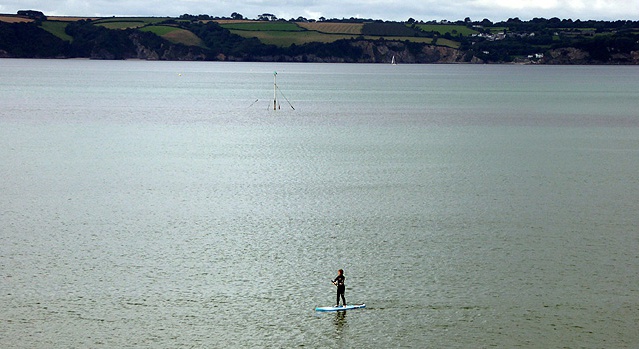 Two paddleboarders were rescued in the Exe (file image courtesy: John Lucas/Creative Commons)
And a canoeist has lucky escape
A man whose canoe had capsized had a lucky escape after an RNLI crew on exercise heard his cries for help.
He was one of three rescues attended by Exmouth lifeboat volunteers on Sunday
The man was picked up by a team on the town's all-weather lifeboat which was on exercise about half a mile off the River Otter estuary at Budleigh Salterton after they picked up a radio message for assistance.
One of the RNLI's retired lifeboat crew members, Simon Turl, was sailing off the East Devon town in the early afternoon when he heard a faint cry for help.
Looking around he saw a canoeist some distance from him who had capsized and was struggling in the water.
Mr Turl notified the coastguard by radio, who in turned contacted the RNLI crew on its exercise. They were able to divert to the incident.
and the Exmouth RNLI lifeboat crew, that were close by, intercepted the call and sped to the location to give aid.
The man had been in the water for some time, his canoe was waterlogged, he had no lifejacket or means of communication and was being rapidly swept out to sea by a strong current.
The crew took him on board the lifeboat, retrieved his canoe and took both to the safety of Budleigh Salterton beach. The casualty, who is in his late forties, was uninjured and did not require medical attention.
Exmouth RNLI lifeboat mechanic Roy Stott said: "This gentleman was extremely lucky. If it wasn't for the sharp observation and swift action by Simon Turl I believe the outcome could have been far more serious."
Later in the evening two paddleboarders were seen in difficulty on the River Exe by the off duty Exmouth RNLI coxswain Steve Hockings-Thompson.
He notified the crew of all weather lifeboat of the incident and two RNLI lifesavers, Harry Griffin and Ed Thomas, took to the boarding boat to give assistance.
Two women in their early twenties were on their first experience of paddleboarding on the river and were unable to make progress. Neither had buoyancy aids.
The crew took both casualties on board and to the safety of Exmouth Marina. Neither were injured or required medical treatment.