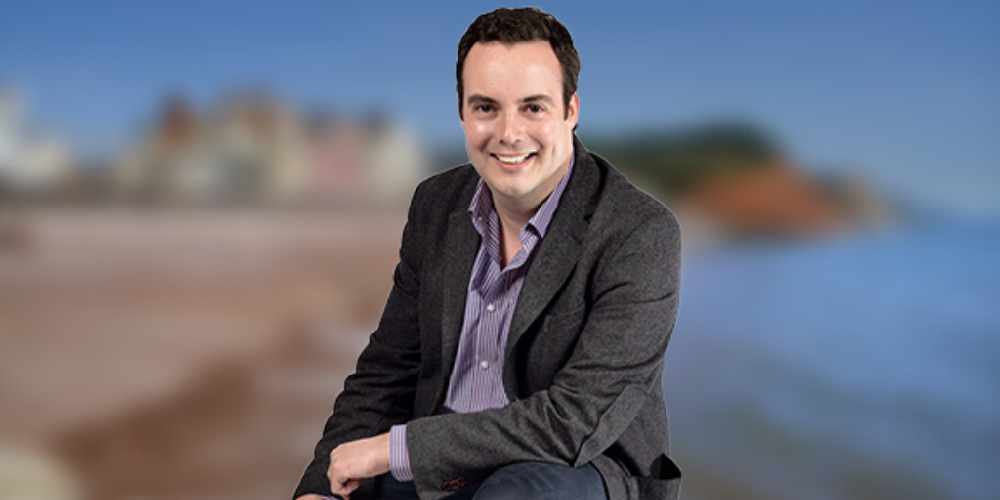 Simon Jupp is the Conservative candidate for East Devon
Tory Simon Jupp wants to be East Devon's MP
Conservatives in East Devon have finally selected the man (and it is another man: no female has ever represented East Devon, or before that, the Honiton seat, as it was called) whom they want to take over from Sir Hugo Swire at next month's general election.
It's been two months since Sir Hugo announced his intention to step down, but the Tories seemed in no hurry to select their candidate.
Now they've done so and it's a Devon boy. Until the election was called, 34-year old Simon Jupp was a special advisor to Foreign Secretary Dominic Raab, a job he took this summer which then prevented him hosting programmes on Radio Exe, where he'd been a freelance presenter. Mr Jupp has also been a reporter for ITV and BBC radio, and a full-time presenter on the commercial radio station in his home city, Radio Plymouth.
But politics has been one of his long-standing interests and he has been trying to find a seat for some years. Now he's landed what would normally be considered as one of the safest for the Conservatives, and indeed has rarely been anything other than true blue. You have to go back to 1886 to find a Liberal sitting pretty there and that's only because the Conservatives didn't bother putting anyone forward. There wasn't even a vote. Other than a period in the 1930s when the Unionists represented the seat (which is much the same thing as today's Conservative and Unionist party), it's been Tory ever since.
But that could change with the current political situation. East Devon was a marginal Leave constituency in the 2016 referendum. Like Sir Hugo Swire, Mr Jupp is a remainer. He's since said he thinks that democracy is best served if the UK leaves the EU as the electorate chose at the time.
In the last three general elections, Labour haven't pulled in much more than 10 per cent of the vote, whilst in the last election, the Lib Dem lost her deposit and the Greens didn't stand. However it's the challenge from independent Claire Wright that could be Mr Jupp's biggest thorn. Ms Wright, who represents the Otter Valley on Devon County Council, will be fighting her third general election. As with her new Tory rival, she has remainer instincts and in 2017 one in three East Devon votes put their cross against her name. She has the advantage of having built her profile in the constituency. Although Devon born and bred, Mr Jupp has been a political professional for some years and has spent much of this year stalking the corridors of Westminster and Whitehall. With an anti-establishment edge to the election, that may not count in his favour.
Unlike his two Conservative predecessors, Sir Hugo Swire and Sir Peter Emery, Mr Jupp has not been drafted into Devon from elsewhere. Educated in the state system, including at Shaugh Priory Primary School in Plymouth, he became a radio presenter rather than go to university. His family live in Devon.
Wishing him luck on Twitter, outgoing MP Sir Hugo Swire said that he's delighted with the choice: "[Mr Jupp is] a Devon man who has been at the heart of national politics already and is well qualified to represent the interests of my former constituents."
East Devon candidates:
Michael Amor (Brexit Party)
Simon Jupp (Conservatives)
Eleanor Rylance (Liberal Democrats)
Dan Wilson (Labour)
Claire Wright (Independent)