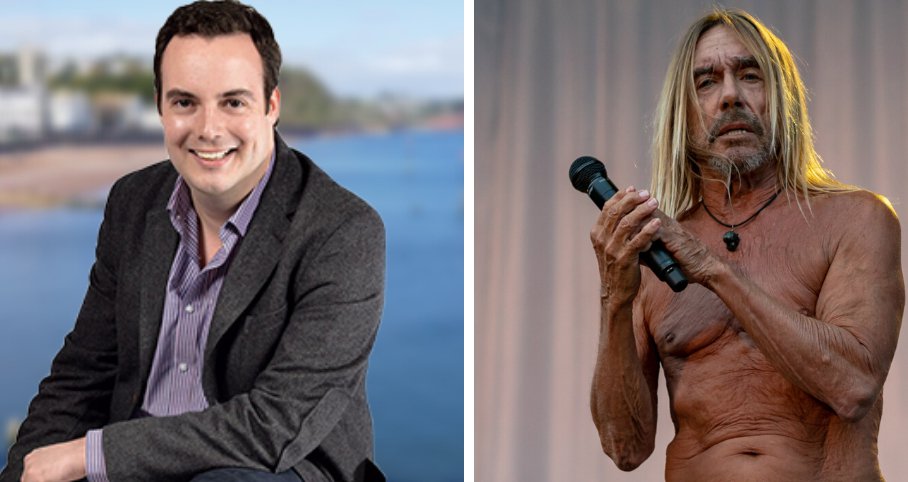 Good on the mic? Would Iggy Pop (left - possibly) perform better than Tory Simon Jupp?
Tories and Independent trade insults over former radio candidate
Housing? Employment? Refuse collection? Regeneration of seafront towns? Any one of them could be top of the charts when it comes to issues of critical importance to East Devon. But Tory and Independent council leaders in the constituency are instead having a spat over whether ageing rocker Iggy Pop would do a better job than Conservative candidate Simon Jupp.
The former radio presenter and journalist won the selection battle to wear the biggest blue rosette at the weekend and took immediately to door-knocking to drum up support. He's defending an 8,000 majority bequeathed to him by outgoing MP Sir Hugo Swire. But that majority itself was down from 12,000 on the 2015 election, with independent Claire Wright snatching a sizeable share of the vote.
Now East Devon District Council leader Ben Ingham, an independent, has told a local newspaper he thinks Mr Pop - who had a top 10 hit in 1986 with 'Real Wild Child' - would have been a better candidate. "People would be able to relate to him more than a DJ from Plymouth," he's reported as saying. Mr Ingham also says he'd thought of running for parliament himself because he's disappointed by the area's MPs.
That's got the leader of East Devon Conservatives, Andrew Moulding, into a lather. He's penned a 500-word response metaphorically telling Mr Ingham to wind his neck in. Being "a DJ from Plymouth [is[ not in itself a crime," he claims (although he may not have met some of the profession in that city). If Mr Ingham thinks he can do a better job, he's still got time to stand, he suggests. And "To compare [Mr Jupp] with Iggy Pop shows how out of touch with reality disaffected Conservative Ben Ingham actually is, stuck in some 1970's time warp, where Simon Jupp will be nobody's 'Stooge' and has a clear 'Lust for Life' (apologies to Iggy), working hard for residents of East Devon on both local and national issues."
East Devon and its predecessors have been Conservative for more than a century. It's considered a two-way battle in next month's election between Mr Jupp and Ms Wright.
East Devon candidates:
Michael Amor (Brexit Party) - Understood to have withdrawn in line with Brexit Party policy)
Simon Jupp (Conservatives)
Eleanor Rylance (Liberal Democrats)
Dan Wilson (Labour)
Claire Wright (Independent)