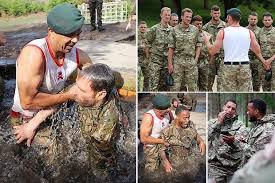 For England and St. George: the Royal Marines taught teach players a thing or two (photo: Twitter and Royal Marines CTC, Lympstone)
Gareth Southgate says coming to Devon made the players bond.
The England team took part in a training camp at the Commando Training Centre in Devon last year.
He said that players took meals together without the interruption from mobile phones because the signal was patchy.
Mr Southgate says that a world without phones at Lympstone (they also spent time on Woodbury Common) meant players had to talk to one another and "connect".