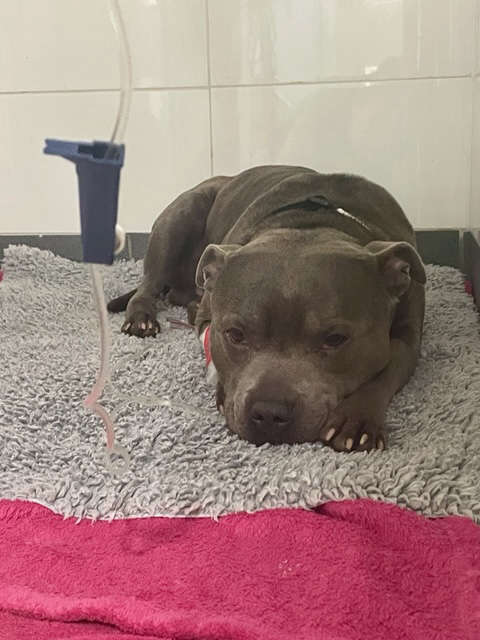 Courtesy of Emily Malcom
Dog makes full recovery
A Staffordshire Bull Terrier had to have surgery after eating six packets of chocolate coins.
The owner of six-year-old Hugo popped to the shop only to find on her return all the treats gone, and wrappers strewn across the floor of their home in Plymouth, Devon. The dog was rushed to the town's PDSA pet hospital where vets took the decision to operate, as chocolate can be lethal to dogs.
Owner Amie said the PDSA treatment was a "Christmas miracle" for Hugo, adding: "I'd only been to the shops briefly and came back to find torn-up packets and bits of foil all over the floor, with the chocolate gone.
"At first Hugo seemed fine, but I felt sick with worry when he began vomiting blood. He then had a seizure which was terrifying, so I called PDSA immediately."
Once at the hospital, run by the veterinary charity, Hugo was assessed, sedated and had an X-ray which revealed his stomach was full of foil, requiring surgery to remove it.
He was very lucky and could have died if he had not been treated in time. Thankfully he has now "fully recovered", according to the owner.