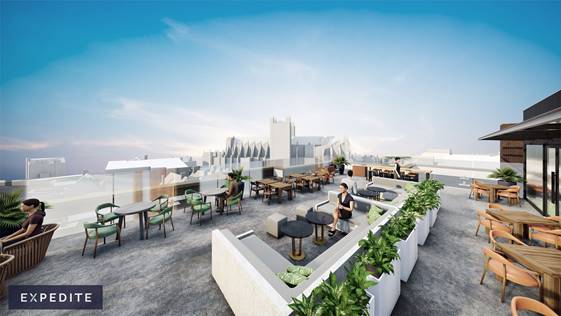 The Bishop will have views of Hotel Indigo
'Boutique' brand is part of international chain
Exeter's former House of Fraser store is to become part of an international chain of boutique hotels.
Local wealth management firm Prydis acquired the massive High Street building in February this year. Now they've announced a deal with the Intercontinental Hotels Group (IHG) to operate it as a franchise of the 'boutique' brand Hotel Indigo.
With views over Exeter Cathedral, the hotel will have unique positioning, not least because the former major hotel overlooking the cathedral, the Royal Clarence, is still in ruins four years after being destroyed by fire. When it opens, possibly at the end of 2021, Hotel Indigo will be an upmarket, four-star brand, in the same bracket as the Hotel du Vin on Magdalen Street and arguably a little higher.
As well as a hotel, it had previously been announced that the 65,000 square feet of accommodation in the former House of Fraser store would include high street shops, as well as cafes and a restaurant. Although the price Prydis paid for the building hasn't been confirmed, Property Investor Today reported that the deal "is predicted to return around £2 million to investors - a figure comparable to the result of Prydis £9.36 million sale of Senate Court last year."
Joe Priday, Managing Director of Prydis, says: "We want to raise the profile and set the standard for the region. Hotel Indigo is without a doubt the perfect brand for this iconic building. We are looking beyond the pandemic and can see a future of conversational commerce, "shoppertainment" and customer experience as king. A Hotel Indigo flagship development in the heart of the city is the crown to help us achieve our vision. We welcome the might of IHG again coming to the City but this time with their boutique hotel brand, Hotel Indigo"
Anna Corkill, Director, Development, UK & I, IHG, commented: "We are excited to bring Hotel Indigo to Exeter. Boutique hotels are as popular as ever in the UK, with guests looking to stay in something unique when they travel. Just as no two neighbourhoods are alike, no two Hotel Indigo properties are designed alike – each is inspired by its unique neighbourhood story yet marries the certainty of quality and comfort with local style and flavour – making it the perfect brand choice for Exeter."
Priday added: "Despite the current business disruption, we have been approached by numerous potential High Street tenants and we are actively seeking the right partners who share our ambition and love for the region; those who can see the future of the high street and want to protect the integrity of our heritage while building for the future."