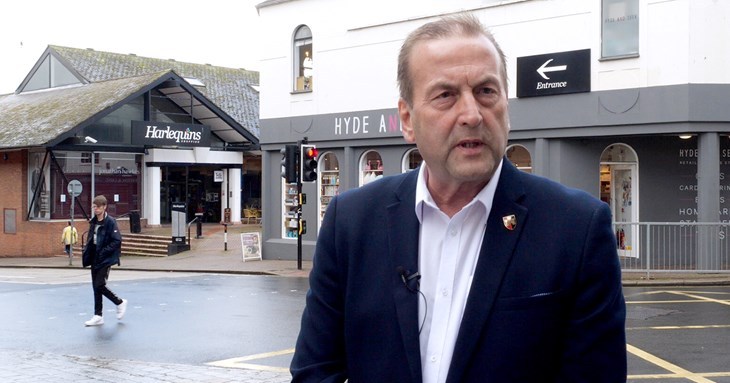 Cllr Phil Bialyk is Labour leader of Exeter City Council
But they lost two seats
The Labour leader of Exeter City Council says he's "very pleased indeed" with the party's local election results, despite a slight drop in seats.
Labour comfortably retained control – now holding 26 of the 39 seats on the council – on a night where they lost three to the Greens but won a surprise seat from the Conservatives in Topsham.
The total is two down on 2021 and four lower than in 2016, but Councillor Phil Bialyk (Exwick) was upbeat after the results were declared at the city's Riverside Leisure Centre.
"I've got 26 members in my group. We are the controlling group by two-thirds. I think people in Exeter like what we're doing."
However, he did acknowledge the loss of three seats to the Green Party, one in St David's and two in Heavitree. "[Voters] may have sent us a signal. We will look at that.
"It's now up to the Green councillors who've expanded to actually say what they're going to do for those residents in those two wards. Because that's all it is – two wards. We're a party that can clearly reach across."
The night's shock result came in the Conservative stronghold of Topsham, where Labour candidate Joshua Ellis-Jones defeated sitting councillor Keith Sparkes by more than 250 votes.
When asked if it was on his party's list of target seats, Cllr Bialyk said: "I have to say no it wasn't, but clearly people in Topsham want us to represent them, and I can assure the people in Topsham we will listen to what they have to say.
"Topsham's an integral part of the city, a great asset to the city, and Josh is going to be an asset for Topsham – speaking on their behalf."
The big winners of the night were the Green Party, who, from a low base of just two, more doubled their number of councillors to five. One of the wins in St David's means they now hold all three seats in the ward, after victories in 2021 and 2019.
It also means the self-proclaimed Progressive Group – made up of three Greens, two Liberal Democrats and one independent – is now the main opposition ahead of the Tories.
Exeter's Green Party leader Diana Moore (St David's) said: "It's been really fantastic and we're really grateful to residents who are putting their trust and confidence in hard working Green councillors.
"We will continue to ask questions, provide a critical and constructive challenge, and bring forward positive solutions to the challenges that residents and the city face.
On the reasons for the success in St David's, Cllr Moore added: "We work hard, regularly talk to our residents and hear what they have to say and have good discussions about that.
"That's the most important thing – working for residents."
The election was disappointing for the Conservatives, the party losing one of its three long-held Topsham seats to Labour without making gains elsewhere.
After having eight seats and comfortably being the largest opposition group in 2018, the Tories now sit on five – level with the Greens but three fewer than the Progressive Group.
As the Progressives become the official opposiiton, it means the Tories are minority players in Exeter.
Exeter's Conservative leader Andrew Leadbetter, who is also a county councillor and holds the children's services portfolio for Devon, says he is "disappointed, but against the national background I think we've done okay."
Cllr Leadbetter appeared to blame the Topsham result on the Conservaitve government. "I think just the constant drip, drip of problems coming from the national government meant that Conservative voters haven't come out and voted," he said.
He admitted there is a "lack of confidence in national government and ministers and they've got to address the issues that people are feeling – the problems in the county at the moment that people are talking to us about."
He stopped short of calling for Boris Johnson to quit immediately but failed to hide his frustration at the prime minister's leadership, saying: "Let's see the results first but certainly if he doesn't go, he needs to make major changes and get a grip of the situation in the country."