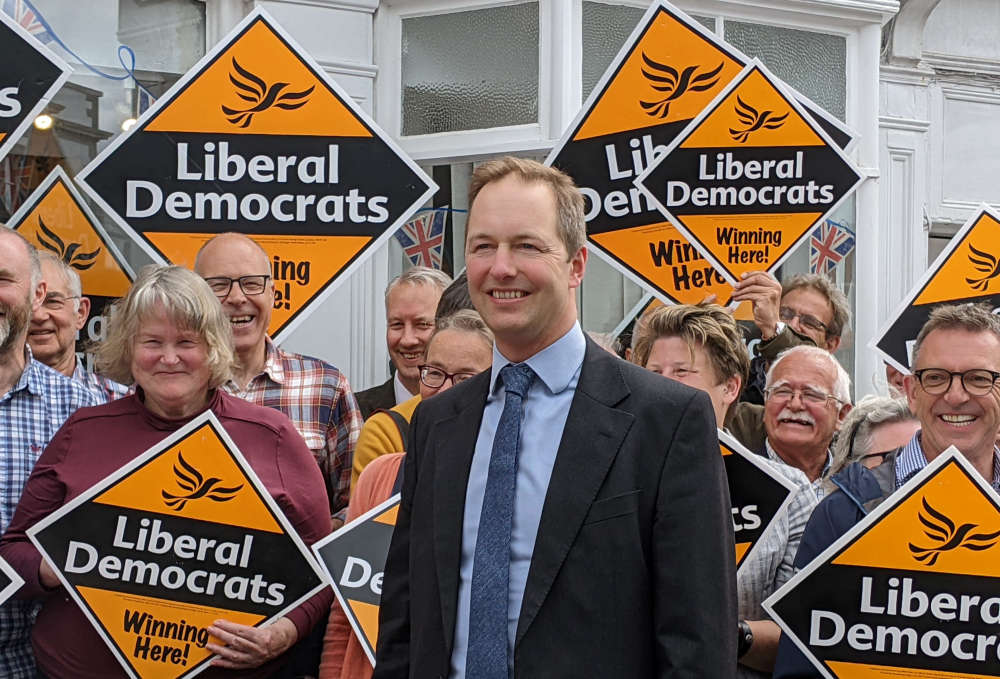 Richard Foord wants Neil Parish's former seat (courtesy: LDRS)
Tiverton & Honiton by-election to replace Neil Parish
The Liberal Democrats have announced former army major Richard Foord as their candidate for the forthcoming Tiverton and Honiton by-election.
Voters will go to the polls on Thursday 23 June to elect their new MP, following the resignation of Conservative Neil Parish after he admitted watching pornography in the House of Commons.
The Lib Dems see themselves as the main challengers to the Tories but will need to overturn a majority of more than 24,000 votes secured by Mr Parish at the general election in 2019.
Mr Foord was joined by party leader Sir Ed Davey in Honiton to announce his candidacy, following a walk along the town's High Street. They visited an independent butchers and an ice cream shop before a photo opportunity with local activists.
After serving in the army for a decade, reaching the rank of major and receiving three campaign medals for service in Iraq and the Balkans, Mr Foord moved to Mid Devon in 2010 where he now lives in Uffculme with his wife and children.
Mr Foord said at the campaign launch that voters' concerns are "largely around the cost of living."
"We're seeing the price of things like bread and pasta going through the roof. Inflation is at a 40-year high at nine per cent, and as Liberal Democrats we would immediately bring in a VAT cut of 2.5 per cent, which would put £600 back into the pockets of constituents here."
The Lib Dems currently have 13 seats in the House of Commons. They need another 311 as well as Tiverton and Honiton to have a majority to implement anything immediately.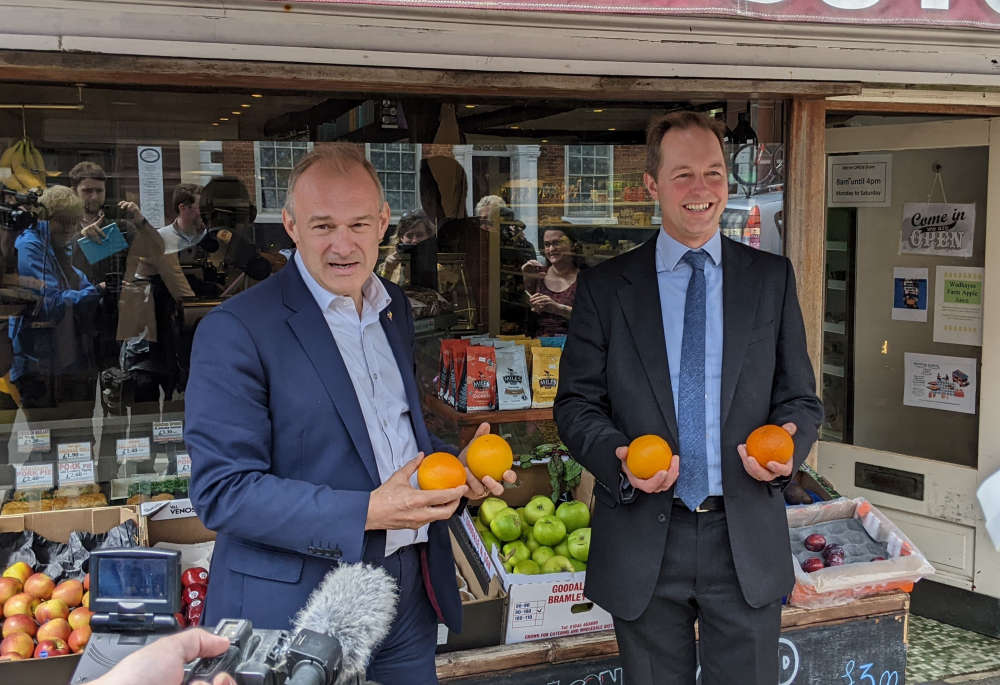 Lib Dem leader Sir Ed Davey and Tiverton & Honiton candidate Richard Foord have their hands full
Mr Foord said he will also campaign for farmers, in the largely rural Mid Devon constituency. Outgoing MP Neil Parish is a farmer who until his ignominious departure was chairman of parliament's environment, food and rural affairs committee.
The Lib Dem candidate acknowledged Mr Parish had been a "spokesperson for agriculture," but said issues like the rising price of red diesel [a fuel generally used in agricultural machines – such as tractors and combine harvesters – that is taxed at a lower rate] means the election is an "opportunity for us to send a message to the Boris Johnson-led government that there is a perfect storm for farmers."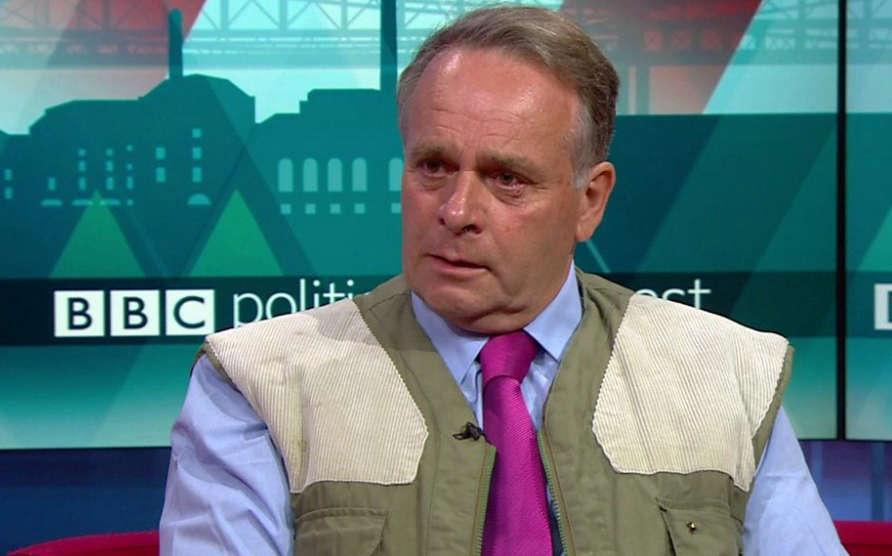 Former MP Neil Parish got into a pickle after looking for tractors and then diverting his attention to porn (image courtesy: BBC Spotlight)
At the campaign launch, leader Mr Davey accused the Tories of "taking people in this constituency for granted for far too long."
He continued: "People's food bills are going up. Their heating bills are going up. It's costing them more to fill up their car at the pump, and the government are doing nothing," he claimed.
"The government have actually really taken rural communities for granted across the country. We saw that in North Shropshire and Liberal Democrats are determined that we will be the voice of rural communities like here in Tiverton and Honiton."
The party overcame a majority of nearly 23,000 to defeat the Conservatives in North Shropshire last year in a by-election called following the resignation of former environment minister Owen Paterson for breaching lobbying rules.
The Lib Dems also tasted success nearby at the recent local elections, winning overall control of the newly-formed Somerset Council.
Mr Davey admitted he didn't know if the Devon seat would also turn orange, but added: "We're already finding that people, even life-long Conservatives, feel it's time for a change here in this area."
He said: "If we can get Richard elected, the people of this area will have a strong local champion raising their concerns in parliament and speaking up for them. Not someone who just does what Boris Johnson and the Tory whips do.
"We want an independent voice to champion the people of Tiverton and Honiton."
The Conservatives and Labour are both expected to announce their candidates this weekend [21-22 May].
There is speculation that Neil Parish could also stand as an independent. He told the BBC last week he had not yet decided whether to run: "I'm still taking soundings and haven't made my mind up yet either way."
But Mr Davey thought it would be a "very unwise decision.
"I also think it would take the voters for granted," he said. "I'm sure he worked hard and I'm sure some people were helped by him, but he had to resign for reasons we all know, and I think it would be inappropriate for him to stand."