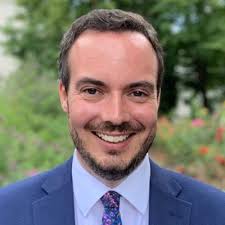 Simon Jupp wants brightest, best and service workers
The Tory candidate for East Devon has justified the prime minister's visit to the constituency on the basis that it's important to back farmers and improvements to transport infrastructure in the south west.
Historically East Devon has been so determinedly Conservative that very little support by way of visits by senior cabinet ministers was deemed necessary. That seems to have changed with the uncertainties of this general election and in particular by the rise of independent candidate Claire Wright in the past two polls. So arguably it should have been little surprise to see Boris Johnson turning up to give his backing to Simon Jupp, a former broadcaster turned political special adviser in the Foreign Office, who hopes to replace outgoing MP Sir Hugo Swire.
Mr Johnson dropped in to meet Mr Jupp and customers at a prosperous Topsham farm that has become a destination shopping village purveying high-end kitchen and bathroom suites as well as food and fine wines. Mr Jupp denies that the UK's forthcoming departure from the EU would lead to a shortage of farm workers. "We're absolutely determined that the brightest and best can come here but also that people who provide an essential service to this country can still come here and contribute to this great nation and greatest region," he told Radio Exe.
Although he voted Remain at the 2016 referendum, Mr Jupp has signed up to the prime minister's pledge to get Brexit done and says he'll vote to leave if another referendum is held. He claims that in his work at the Foreign Office he travelled the world meeting countries that want to sign trade deals with the UK but couldn't do so because of the country's membership of the EU. "I truly believe we can be a free, independent and transformative nation once we have left the European Union," he says.