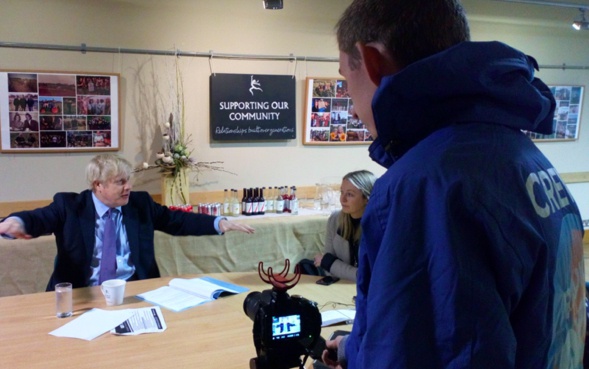 'The trout in the Exe are this big' (photo: Adam Manning)
He prefers talking to Radio Exe!
The prime minister is under fire for not taking part in a televised debate with other party leaders about climate change - and says it's because he'd prefer to be spending time with Radio Exe!
Boris Johnson spent Thursday afternoon at Darts Farm at Topsham, where he donned a serving apron and had a butcher's at the butcher's there. The family firm, which has been trading at the site near the River Clyst since the 1970s, say they're thrilled that the PM spent time with them supporting local small business. They have, however, come in for a bit of a pasting on social media for allowing the Conservatives to campaign there. East Devon, the constituency in which Darts Farm falls, is now thought by some to be a marginal seat, although it's been Tory-held for more than a hundred years. Independent Claire Wright is snapping at the heels of the Conservative majority. New Tory candidate Simon Jupp, a former broadcast journalist and radio presenter is trying to avoid being the first Conservative to lose the seat. The district council shed its blue hue and turned independent in local elections earlier this year.
Mr Johnson defended his decision not to be on Thursday's Channel 4 panel because he's taking part in other debates. Asked by Radio Exe's Sam Sterrett why he wouldn't participate in the climate change programme, the PM said: "I'd rather spend time with you!
"We've had the most radical agenda to tackle climate change of any EU government. We led the way. Our country will be carbon neutral by 2050 because we have the technology to do it."
Mr Johnson also recalled spending time as a child swimming in the River Exe, where he would be accompanied by trout "but not very big ones."