Verdi's Macbeth – Review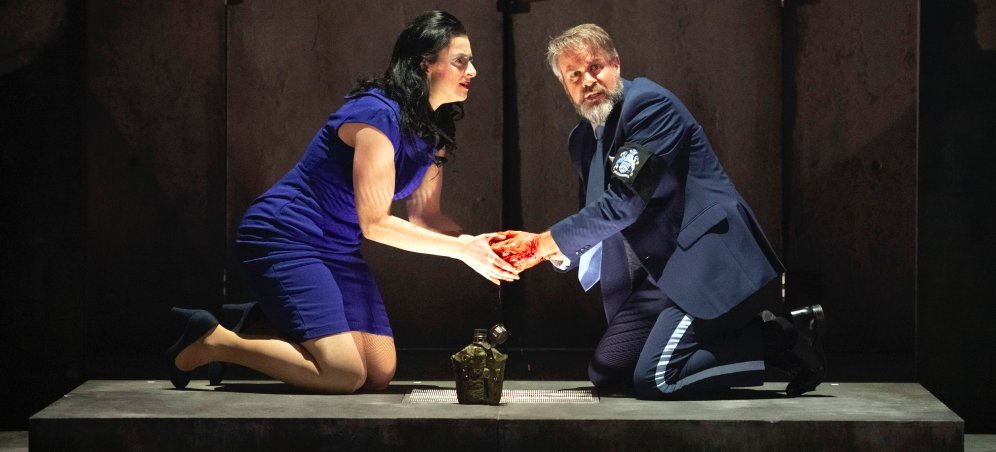 English Touring Opera at the Exeter Northcott
May 2019
Review by Paul Nero
It may not be one of Verdi's biggest operas - lacking a sing-along-in-the-shower aria - but it's one of the most faithful to its source text, Shakespeare's Macbeth. And because it's not one of the best-known, it's also relatively infrequently performed, so worth seeing while you can. English Touring Opera's Macbeth, part of a Kings and Queens season, is dark, compelling, visually attractive, audibly superb. With small set (in a Soviet-cum-Plymouth brutalist style) and large cast, it fits the Northcott stage beautifully and provides one of the few occasions at the Exeter theatre to see the red velvet curtain drop and the orchestra pit open. Even small pleasures delight.
"Hubble bubble toil and trouble" sing the witches, three in the play, around a dozen here, transmogrified into nuns who are in the habit of popping up throughout the production to move the story along with quality choral singing. This is Verdi in English, with surtitles provided because, let's be frank, even the best sung opera can be difficult to follow, even if some of the words are familiar.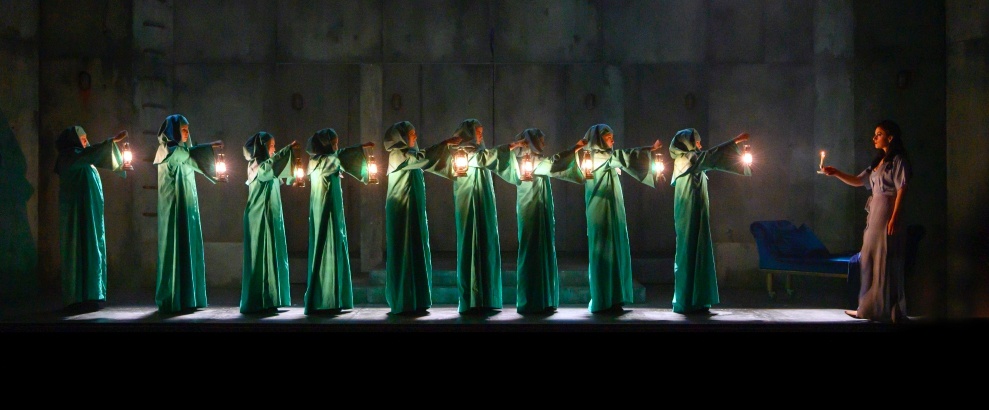 Grant Doyle is Macbeth, stern, frowny and rightly under the thumb of Madeline Pierard's elegant and frightening Lady Macbeth, the outstanding star of this production. They're a compelling couple, blood brothers, emotionally and sexually charged, energised by joint endeavour. A local child the surtitles tell us is called Ted is pushed and prodded about the stage like a rag doll and performs attractively but mutely (Verdi's fault). He's Ted Brough, an eight-year-old from Exeter School, determined to outdo his sister who was in a school production of Macbeth.
Gutsy singing, sinister Great War setting, rugged direction, this Macbeth is one to see, and tours in rep with Mozart's Idomeneoand Rossini's Elizabeth I; not tier one shows from their composers, but from a tier one company in English Touring Opera.