Amelie the Musical review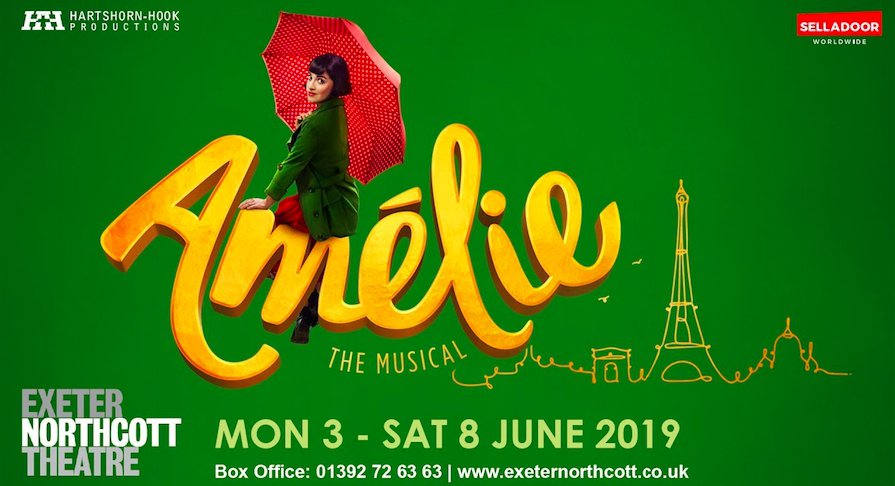 June 2019
Exeter Northcott review by Paul Nero
We're in Paris. A blind man plays an accordion. A girl, wide-eyed, hair jet-black, waits tables at a café. A mystery: who is the man who takes pictures of himself in photo booths only to rip them up? And how can lonely girls fall in love.
You know the image from the film posters. That girl with the wide eyes in vivid colours. Amelie the musical movie proved marmite. Abba, Bohemian Rhapsody and the most recent Elton John biopic Rocketman are box office because they have a loyal fan base. Amelie is harder. No known hits, so an unknown score. And therefore tougher to attract audiences to a theatrical adaptation. With the Northcott a third full, that's a tragedy; this is a stunning show of the highest calibre, in book, lyric, direction, performance, staging, lighting, the lot.
For those people, and there are many, for whom musicals are a minority sport, this extraordinary production is a musical dependent on musicianship. No orchestra pit is needed. No rousing rendition of the greatest hits before curtain up. The performers are the musicians. You want to see someone act and sing and pirouette on the point of a cello, Amelie's your show.
Ascending and descending betwixt cafe and bedroom by way of a café light (you need to see it) Audrey Brisson is part Mary Poppins, part Cabaret's leading lady Sally Bowles. Unlike those two vintage shows, there's no standout singalong hit here, but that doesn't detract. Like Cabaret, Amelie is stylish and stylized. We've nice vignettes (Elton John and Amelie ruefully and momentarily a Princess Di, one night in Paris). And we've joy, laughter and – spoiler alert - the girl gets her boy happy ending.
Amelie's a hit without the hits. Well worth a special trip out, even if you didn't like the film much.
Amelie the Musical is a Hartshorn-Hook Production, with Sellador Worldwide and Broadway Asia Company in association with the Watermill Theatre.