An Inspector Calls at Theatre Royal Plymouth review
PW Productions
March 2020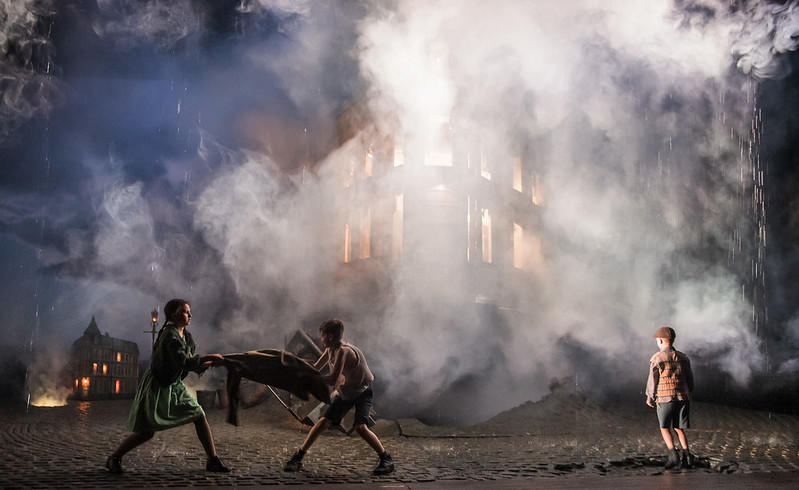 Review by Jamie Taylor
It's fascinating when a play generates questions or throughs hours after the final curtain falls. It's the power of theatre to make you think. Although J B Priestley wrote this play after the First World War, it's set before that carnage. He wanted people to understand that past mistakes should not be repeated, as well as the importance of equality, regardless of background, status or class. Big on diversity was old JB, even before it was invented.
A bit of a leftie too, a much appreciated in the Soviet Union in the 1940s, where this play was first performed, ahead of its later British premier. In the early 90s, Stephen Daldry revived An Inspector Calls at the National Theatre, which made a favourable impression. Now he has another crack at the whip almost 30 years on alongside the original producers as the award-laden West End and Broadway production of J.B Priestley's classic thriller moves to the West County.
The pace is slow to start, as we're introduced to the Burley's– an upper middle-class family celebrating the engagement of their daughter (Sheila Birling) to Gerald Croft. This is shortly interrupted by the arrival of police Inspector Goole who explains how a young woman has taken her own life by drinking disinfectant on her way to the infirmary. Even though the family is adamant it has nothing to do with them, it soon turns out that each one of them has played a significant role in her suicide.
The pace ramps up once the Inspector starts firing questions from culprit to culprit – everyone's guilty of something. It's a thrilling, intriguing whodunit that's wrapped in multiples mysteries and stories.
The whole cast plays their parts well as they take us through how they know the young women. Inspector Goole, played by Liam Brennan, keeps the investigation ticking along as an omnipotent, powerful figure that crushes and divides the Birlings'. It's also the spine-tingling staging that accompanies this wonderful cast. Set on a smokey barren stage with the Burley's fairy-tale-like house on stilts that suddenly falls towards the audience once all their secrets have been finally uncovered.
It's a drama, but surprisingly there are a few laughs weaved in. For those who know the play, after almost two hours we get the tremendous payoff. If you're new, you're in for a shock. In Devon this week, much of the audience gasped in surprise.
Daldry's accomplished production is a must-see, not least for the resonance between the concepts of socialism, gender equality and responsibly issues at more than a century since Priestley penned the piece.
P.S. If you want to avoid someone kicking the back of your chair and frequent giggling. Avoid going on a school night!
An Inspector Calls runs until Saturday, then moves onto Cardiff, Glasgow, Guildford, Sheffield, Sunderland, Coventry, Dublin, Dartford and Leicester