Bang Bang! - At the Exeter Northcott
Exeter Northcott Theatre & Dermot Mclaughlin Productions
February 2020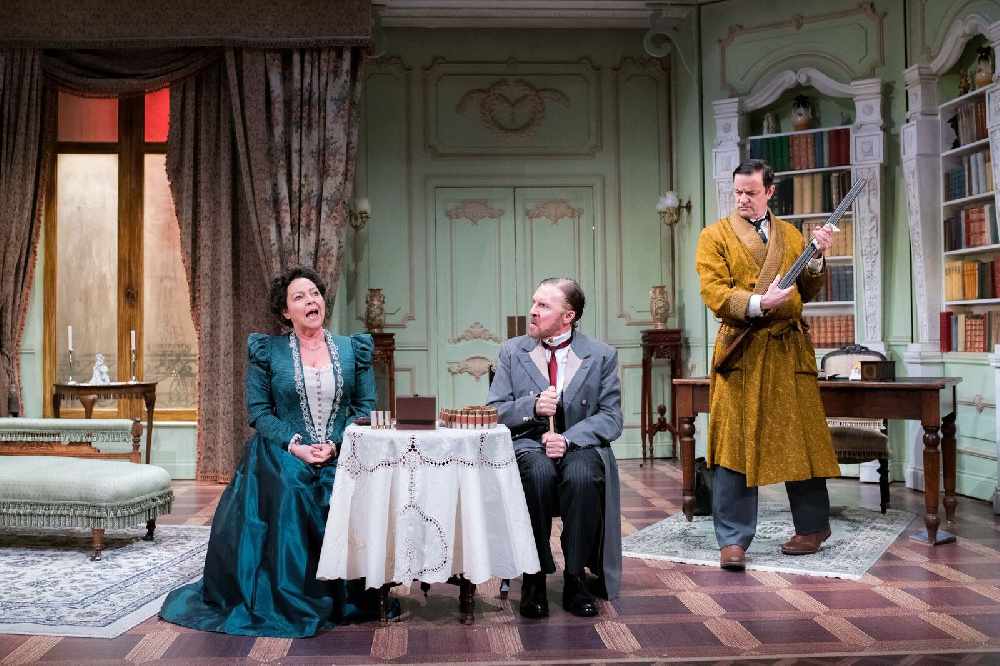 Image: Paul Blakemore
Review by Jamie Taylor
It may be a shock to know this is John Cleese's first time writing for the stage. But after an initial run at the Mercury in Colchester three years ago, former Mercury Theatre director Daniel Buckroyd has brought this adaptation of George Feydeau's lesser known French farce Monsieur Chasse to his new Northcott home.
According to Cleese's Radio Exe interview, Bang Bang! is an intricately plotted period piece, to which he's made a few changes in the first act, leading to "the second act writing itself." It's typical farce fare: a set with several doors and a wardrobe (for the inevitable "hide in the cupboard" bits), dropped trousers and culprits almost caught in the act with the wrong people.
Duchotel (a Basil Fawlty double in Tony Gardner) goes hunting as a cover to get away from wife Leontine (Tessa Peak-Jones) and enjoy liaisons with Mme Cassagne, whom we never meet. Duchotel's best friend Moricet (Richard Earl) uses the opportunity to lure Leontine into bed in an apartment opposite. A private detective hired by Cassagne gets his left confused with his right (Clockwise, anyone, anyone?) and the farce can really take off. By the time handwritten notes, placed in the right trousers but worn by the wrong owner, come to light, everyone's story unravels.
For the audience, the show is a "spot the bit from Fawlty Towers/ Monty Python" fest. Inanimate objects are given a damn good thrashing. A lover wants to be a lion tamer. People are helped to remember a lie constructed earlier with the help of mime behind the wife's back. Brown-coated removal men, as from the gas cooker sketch, sing. You could take a scorecard into the auditorium and tick-off the sketches from the Cleese comic arsenal retold here.
The first act is a little slow in parts, but much of this set-up is well rewarded with pay-offs later, and Bang Bang! really gets going after a delightful Pythonesque sing-song. To really work, farce needs more than an accomplished script and a cast of good actors. Cleese says those actors need to time their word and acts perfectly to get the laughs. And they do.
Cleese's adaptation of an under-rated French farce works, even though the original Monsieur Chasse, from 1898, is of its age. Cleese is in the audience on opening night and clearly approves of how his work has turned out in performance. Exeter is the beneficiary of this now-octogenarian's new play, as it the Northcott launches Bang Bang! on a UK tour.
Bang Bang! runs until Saturday and then undertakes a short UK tour.