Bedroom Farce review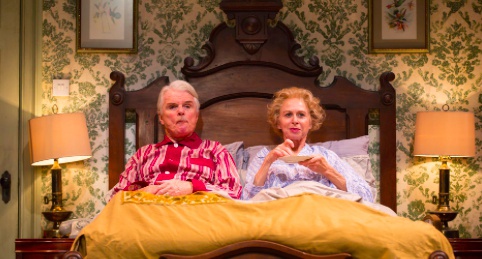 Barnfield Theatre, April 2018
Review by India Nye
Light-hearted comedy and truly heart-warming moments encompass this production of Bedroom Farce. Director Elizabeth Noon, who stars in the production as the character Mel, had chosen this play because she had worked on it previously and loved the focus on human relationships and the connections we make and share with one another, she told me in a quick interview before the show.
Performing at the Barnfield, it was a promising piece about the complications of relationships with a lovely cast that work well together, yet I felt it lacked a polished appearance.
Bedroom Farce follows the story of 4 married couples, young and old as they interact with each other over the course of an evening and a morning. Set in 3 different bedrooms of 3 of the couples, it explores how relationships can strain due to a range of different issues as well as discussing themes of forgiveness and loyalty.
Susanna and Trevor, (Gill Smith and Pete Francis) a couple with intense marital problems are the infamous couple of the show, their chemistry on stage was hilarious from the minute they set eyes on each other. As an audience member, you are introduced to their problems from the very beginning and it reaches a hilarious climax at couple Mel and Kate's party. Performed well by the actors especially Gill Smith, it was a joy to watch.
Ernest, played by David Gunn-Johnson, was an endearing character portrayed well by Gunn-Johnson, his comedic timing was brilliant and made the audience laugh the hardest. His relationship with his wife Delia, played by Susan Gunn-Johnson, was sweet and they embodied the sweet elderly couple who were kind and thoughtful to the characters within http://the play.
Jan, played Denise Gough, was good as the matter-of-fact character who gave great advice and was balanced well when you compared her with the more louder characters such as Susanna.
The flicking between bedrooms was entertaining to watch as well as you were peering into lives you didn't know much about, but when you left the theatre, you felt you knew everything about the characters and their relationships with one another.
There were occasional fumbles with comedic timing being off and the occasional stumbling over words which I felt didn't help the piece's appearance and made it feel a bit disjointed as a result. But it was mixed in with a lot of warm moments especially between the couples that really made the piece more than just a relatable comedy about relationships. Bedroom Farce was a joy to watch.