Comedian Jessica Fostekew brings her first ever UK tour to the Exeter Bike Shed next Sunday (18th February)
Comedian Jessica Fostekew brings her first ever UK tour to the Exeter Bike Shed next Sunday (18th February)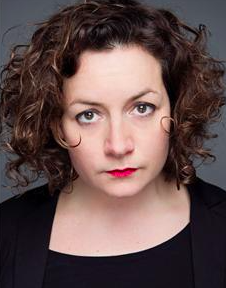 Jessica, who is also an actor and writer, has been performing stand up comedy for 10 years. Her recent achievements include contribution towards major television shows such as Have I Got News For You and 8 Out Of 10 Cats.
Some of you might recognise Jessica from other television programmes such as Three Girls and National Treasure. Currently, the travelling comedian is in the middle of writing a narrative comedy for television, a one-off drama. She also writes for various other comedians, mainly quick-fire gubbins for telly.
Radio Exe's Live and Local producer Sam Sterrett found out a little bit more about her.

/events/devon-cultural-and-food-scene/
Now, your currently undertaking your first ever UK tour, Silence Of The Nans. How are you finding it so far?
So, I'm one date in and it's brilliant fun.
And you'll be performing at the Bike Shed Theatre in Exeter next weekend, why have you decided to step foot in this City?
I did a preview at the Boat Shed, the Bike Sheds little sister venue and I loved it. All the people that ran it were lovely and it was on my wish list of places to come back to if I go on tour. I am really please to return to Exeter, I'm a West Country girl and really feel this city is on the up.
For people attending the show, what can they expect? How would you describe your stand up?
The show is one massive story, a story telling style of stand up. I like to hope I bring lots of the characters along the way and make them feel very real for the audience. It's not one liners but I have worked on the show for a long-time.
Not only are you a comedian, your a writer and actor too. And I understand you currently writing a new televisison show, can you tell us more about this please?
I don't know if it's for radio or television yet. I have now been on three speed awareness courses and they have all been very funny. I would like to develop something to do with that. And I am also looking to develop this show that I am performing on Sunday in a documentary style. Everything is up in the air at the moment but that's what I'm currently working on.
Finally, your Silence Of The Nans tour marks 10 years as a comedian - quite an amazing accomplishment. Where do you see yourself in the next 10 years?
Sam, Im not very good at looking that far ahead in life. I have two, two year olds so I tend to take each 10 minutes at a time. But ideally, in a decades time I would have been to Mars in a lift, because they can build those now. I woud have probably met Barack Obama too.
For the full interview, tune into Live and Local this Sunday night from 8pm. Jessica will be performing at the Exeter Bike Shed on the 18th February 2018. More information about the comedian can be found here: http://jessicafostekew.com