Dead Dog in a Suitcase review at the Exeter Northcott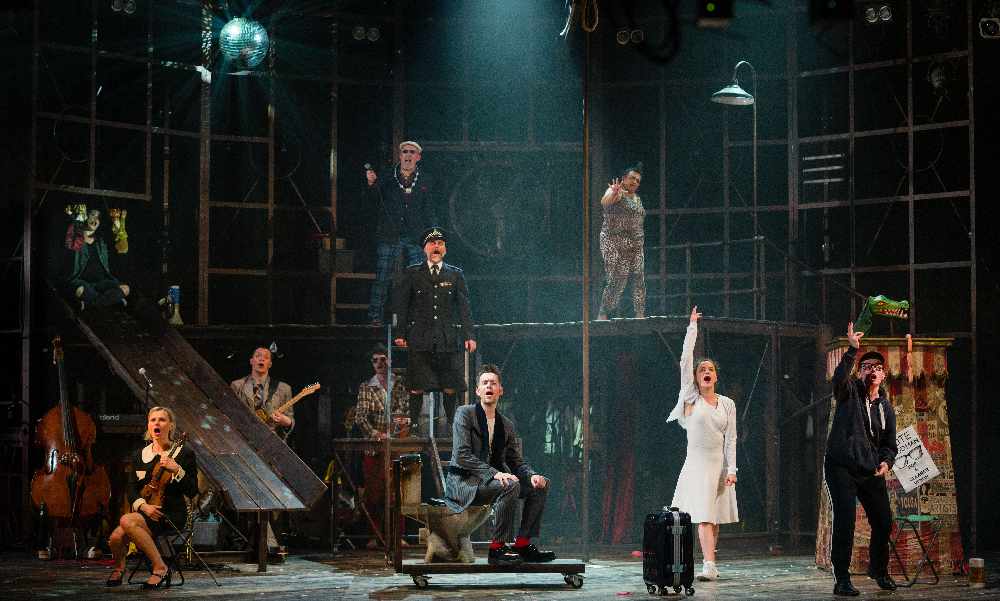 June 2019
Review by Paul Nero
Is it an opera? Is this a musical? Are we at a rock concert? All of the above. And you can throw in melodrama, tragedy, comedy and puppetry for good measure. By the end, this could be hell as apocalypse descends, but it's a hell of a good climax after two hours of theatrical ecstasy.
In the three centuries since John Gay's Beggar's Opera turned high culture into a spirited story about the working classes, giving us Macheath, later Mac the Knife in Bertolt Brecht's Threepenny Opera, a staple of interwar Marxist dialectical drama. This 2014 loose interpretation Kneehigh version is of its age too, in a place where crooks are leaders, gangsters are heroes and only the good get hurt.
From the moment the mayor and his dog are shot and the pet entombed in a suitcase, this captivating show is a pacey and potent piece of musical drama. The dramatic span is vast. Three suitcases, one of money, one of clothes, one of rotting Rover, inevitably are switched several times. This could be Benny Hill. But then comes poignancy from put-upon gofer Filch, in a standout performance from Georgia Frost, and wonderful caricature crooked couple Mr and Mrs Peacham, who could be Marlene and Boycey. This show has range. The babies are gorgeous, Punch and Judy reach new heights, and is violence is your thing, enjoy several shootings, a drowning and a can-you-believe-it hanging. The musicianship is stunning, the production astonishing, the performances extraordinary.
Kneehigh's reputation for exceptional new work, much of it developed at its Cornwall home, is nowhere more evident in Dead Dog in a Suitcase (and other love songs). This production, in association with Liverpool's Everyman & Playhouse, is amongst their best.
After Exeter's Northcott, Dead Dog in a Suitcase (and other love songs) tours to Cheltenham, Bristol and Galway.