Frankenstein Review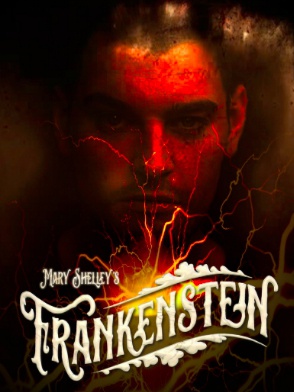 Exeter Rep at the Barnfield Theatre, Exeter: April 2018
by India Nye
Good versus evil, nature versus nurture. These are amongst the themes explored in Kickline's version of "Frankenstein". Slightly different to the story we all know, it follows the aftermath of Frankenstein's creation and what happens after the monster escapes from the grasps of the titular character.
The story is split into two. The first part runs up to the creation of Frankenstein's monster. Told through a monologue by the incredible Dan Ball, who balances both the genius and the madman in an exceptional performance from the very beginning, as well as two other actors played by Derek Frood and Phillip Voyzey who flick between multiple characters, they are angels on Frankenstein's shoulder, acting as his conscience, which elevates the show philosophically, giving an insight into Frankenstein's character. The first half does feel a bit rushed and relays too much information and can make the multiple roles a bit confusing.
But the performances are superb. Will Trafford plays Frankenstein's monster, introducing the second part of the story, and it's heart-breaking, requiring physical and vocal strength. The character tries to find his place in an incredibly scary world. His interactions with a blind man, played by Voyzey, is endearing, even as most of the play shows the dark side of humanity.
With an abstract set, the actors can create specific looks, such as the bow of a ship. The music manipulates the emotions too: engendering fear, worry or sadness. Some of the audience hid behind their hands, at other times there were tears.
However, there's no interval in this Frankenstein, so it does get to the point where you're looking at your watch. Overall, it's eerie and emotional, as well as a bit scary. What's right? What's wrong? What's moral? Other than the need for a short break, what's not to like?