Rita, Sue and Bob Too at the Exeter Northcott Review
Out of Joint co-production with the Royal Court Theatre and Octagon, Bolton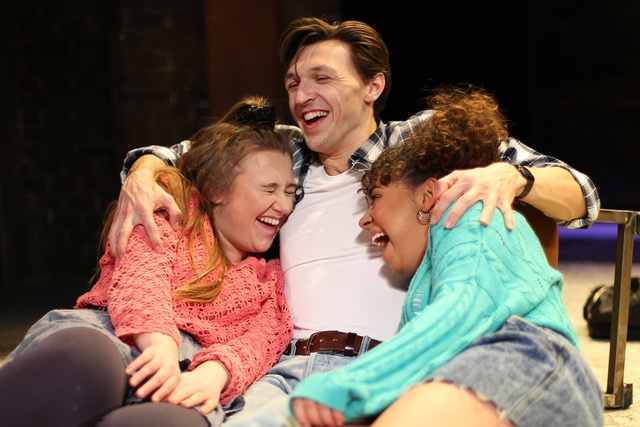 Jump to it! Sue (Gemma Dobson) and Rita (Alyce Liburd) enjoy some laughs with sex-starved Bob (John Askew) (Courtesy: Out of Joint)
March 2019
By Paul Nero
Here's a lesson in learning a bit more about a play before going to see it. It's set in 1982, said the blurb, heralding the possibility of a Specials and Jam soundtrack. Set in Bradford, explained the publicity, so quite likely to be gritty northern drama. And first performed at the Royal Court, it proclaimed, which either means its edgy stuff or Her Majesty enjoyed it, depending on your knowledge of British theatre. The flyer forgot to mention the barely legal, and for the first half hour, not-legal-by-any-stretch-of-the-imagination (not that it left a lot to the imagination) intergenerational sex. That might account for the low turnout for the first night of the show. What this riveting production needs is a burst of publicity. Or a health warning.
The only nod to any concern was a note sellotaped at the top of the Northcott staircase warning of – or promoting, depending on your point of view - partial nudity. Now I'm a hardened theatre-goer. I've attended too many alternative productions, especially in the 80s, in which the director didn't think they'd done their job if half the cast didn't bare all. I know of one theatre in the south west that didn't book Equus in 2007 because Daniel Radcliffe wasn't on the UK tour, meaning people had to travel to London if they wanted to see Harry Potter's willy. Radcliffe/Potter did the last 20 minutes of that show butt-naked and we worried he might catch a chill.
So the wobbling buttocks in Rita, Sue and Bob Too are hardly at the extreme end of theatrical exhibitionism. But it's what those wobbling buttocks signify that makes this such an uncomfortable watch; the first disturbing sex scene coming within minutes of curtain up (you'll have more trouble imagining a curtain than the sex in this production). There's no watershed at the Northcott and no announcer to advise that there's graphic material and bad language from the start. So we're seeing this stuff at half past seven and somehow that's uncomfortable too.
Fifteen-year-olds Rita and Sue (newcomer Alyce Liburd who deservedly won the part following open auditions, and Gemma Dobson, winner of a stage debut award) have been babysitting Bob's kids, so understandably on the drive home he wants to know if they're virgins. On being told, untruthfully, they are, he teaches them a life lesson on the front seat of the car. Cue wobbling buttocks and used-condom slapstick. Sue's boozy dad (a captivating David Walker), almost as foul-mouthed as his daughter, wants to belt her for coming home at two in the morning; her mother implores her to go on the pill so she can live a little before having kids, and slut Rita (their word, and it's one of the milder ones) gets the blame for leading married man Bob on and wrecking his marriage, just because he's not getting enough sex at home. The girls move on from school to a YTS scheme (if you don't know, you weren't unemployed in the 80s) and dream of having what Bob's wife possesses: the clothes, the house, the kids and most of all, Bob.
The politics, and indeed sexual politics, of 2019 may be different from 1982 ("that Maggie Thatcher will never be re-elected", we're told) – but the production isn't going to tell us what to think. In the #MeToo era, that 15-year-olds are to blame for enticing Bob for "a jump" while his kids are at home watching the Bionic Man seems inconceivably wrong, but adds poignancy. This play, written by teenage Bradford girl Andrea Dunbar, who at 15 gave birth to a stillborn child and went on to have two thankfully live births whilst still in her teens before dying at 29, tells the story unjudgmentally and wittily; and the cast portray it with a fizz and energy that keeps the 75-minute piece flowing seamlessly. Every one of the six-strong cast deserves their place in this remarkable piece of theatre and the show in turn deserves its place in the Northcott's season. Among the highbrow dance and opera, the usual canon of drawing room plays and middle-ranking touring shows that the Northcott traditionally serves up, Rita Sue and Bob too needs to be seen in Exeter. But too few seats have been sold, even at a fiver for student standby tickets.
So, let's be brazen and tell it how it is. Simulated teen sex, on the Northcott stage this week, before the watershed. Tickets still available - in a production that deserves to be seen.
'Rita Sue and Bob Too'- at the Exeter Northcott until Saturday 9 March, then touring to Bury St Edmunds, Lichfield, Salford, Bradford and Canterbury.