The Women in Black at Princess Theatre Torquay review
PW Productions
March 2020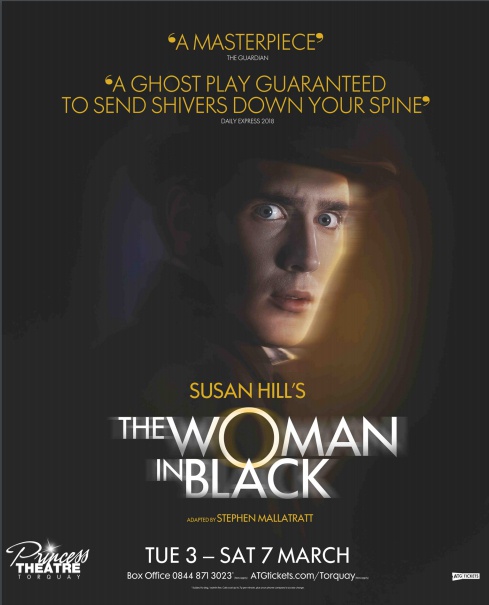 Review by Louise Tanner
The Woman In Black is a theatre adaptation by Stephen Mallatratt based on the 1983 novel by Susan Hill. Many will remember the film starring Daniel Ratcliffe, this film production is very different to what you will see on stage.
This stage version is a play within a play and has only 2 actors portraying a number of characters chronicling the story of an elderly Arthur Kipps who is haunted by horrific events which happened 30 years prior and resulted in the death of his wife and child. In order for his demons to go away he enlists the help of an actor to tell his story in front of a theatre audience, however as they rehearse and talk through what happened the play & life become entwined.
I found the whole play from start to end riveting. The woman In Black has you drawn into every word the actors are saying and because you are concentrating so much in following the story when something frightening or unexpected happens it literally has you jumping out of your seat!! It is a classic ghost story in every sense of the word and will have you gasping when the unpredicted happens which it often does.
The set is very simple and proves you don't need to spend big budgets on sets in order for them to be effective, also I believe it is very clever because it enhances the audience's imagination.
The two actors Robert Goodale (Arthur Kipps) & Daniel Easten (The Actor) were absolutely superb. Full credit to both actors to enthral the entire Princess Theatre audience with their performances.
It is a brilliant adaptation and well worth going to see, you will be thoroughly entertained.
The Woman In Black runs until Saturday 7th March 2020