Oliver review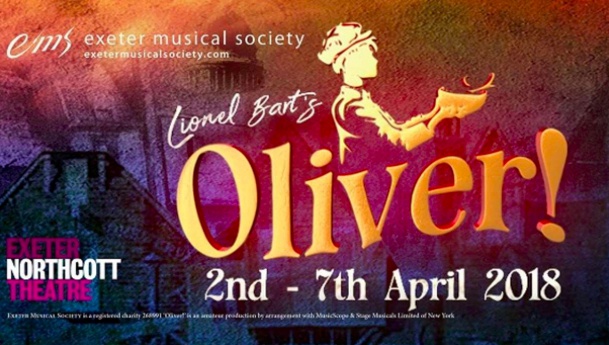 Exeter Music Society at the Exeter Northcott, March 2018
Review by India Nye
With a lovely balance of light comedy mixed with raw emotion, this rendition of the ever popular musical, Oliver, is fun for the whole family.
Preforming at the Northcott Theatre, the Exeter Musical Society put on a delightful show by mixing young and old actors to tell a story that embodies Victorian England and is known by almost everyone.
Based on Charles Dicken's extraordinary tale; Oliver, follows orphan Oliver Twist as he tries to find his place in the world mixing with the like of pick-pockets and evil crooks. We follow his journey as he makes friends in the underbelly of Victorian London and holds his own against powerful brutes.
This rendition was incredibly enjoyable, yet certain scenes felt abit stop and start and slightly disorganised. This was a minor issue and was overshadowed by the individual performances which were incredibly powerful such as The Artful Dodger (George Saunders), at just 14, Saunders commanded the stage and embodied the cheeky chappy we all expect from The Artful Dodger, Nancy (Samantha Ottaway) whose performance of "As Long As He Needs Me" was full of raw emotion and delivered by incredible vocals that filled the entire theatre and Fagin (Phil Ward) whose comedic performance draw the audience in with every word said and every song sung.
The child chorus set the bar high with their performance of "Food, Glorious Food." They continued to deliver incredibly strong ensemble performances throughout the rest of the show most notably in Fagin's Den where they really brought the scene all together. The children worked incredibly well alongside the adult chorus and managed to hold their own against the more experienced group.
The chorus was led by the titular character, Oliver. Played by 9-year-old Tom Robinson, was incredibly sweet, singing perfectly and innocently, he really captured Oliver as a character and was a joy to watch on stage.
Comedy was something I didn't expect from Oliver as my initial thought of it was an emotional musical, so I was delighted when we were introduced to Mr Bumble and Widow Corney (Nic Hake and Rachel Barker) an hilarious duo who managed to bounce off each other really well and gave some light-hearted comedy to a sometimes-solemn story.
Overall the performance was a joy to watch with the stand out performances despite certain scene lacking in certain areas, the overall quality of the show was brilliant. A recommended watch to people of all ages.