The Flying Lovers of Vitebsk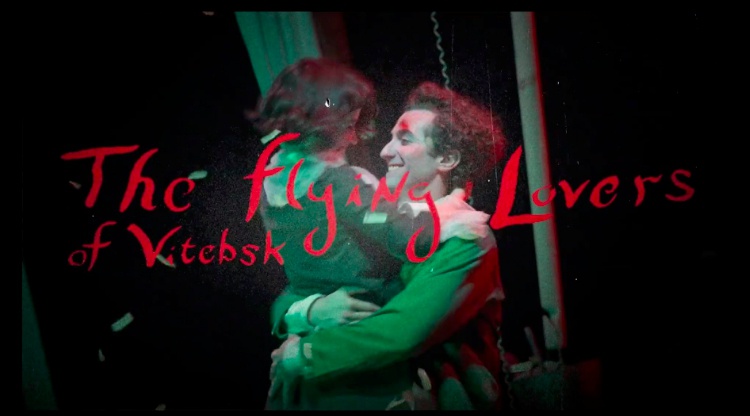 A playful play, beautiful and musical – but with a flaw
At the Exeter Northcott: April 2018
By Paul Nero
Into the Northcott's golden jubilee year comes an old show in new clothing. The Flying Lovers of Vitebsk- originally performed as a piece called Birthday – is the story of Russian Jewish painter Marc Chagall's enduring love affair with wife Bella. The romantic drama entwined with gentle comedy and a haunting soundtrack is a Bristol Old Vic production in association with Cornwall's Kneehigh Theatre, and thus a show with pedigree. And though it's a beauty, it's a beauty with a flaw.
Let's look at the beautiful things most. The performers; young, gifted, engaging. The musicianship; starting with the voice – four voices – whom one could listen to all night – especially when adding piano, accordion, mandolin and trumpet. The choreography, movement, characterization. All big ticks. The space; captivating and intriguing, every inch employed in the drama.The Flying Lovers of Vitebskis highly produced, visually stunning and polished almost to perfection. And with the passing of more than two years since its revival, its reputation is enhanced by a drama award at the Edinburgh Festival.
In terms of recognition, Marc Chagall's arguably someone who wouldn't score highly on Family Fortunes if they asked 100 people to name a twentieth-century artist. Picasso, Dali, Monet, Van Gough, possibly, but Chagall, their contemporary, doesn't match these giants of the easel when it comes to box office. But his story could be just as strong. Van Gough may have cut off an ear, Dali be a charismatic self-publicist and Picasso the father of cubism, but Chagall's narrative is entwined with the politics of the time – and that should make it riveting. A Jew living through Russia's October revolution; his best work coming through the rise of Nazism, an escape to the United States with his life at risk just as Germany invaded his homeland. And running throughout, an unbreakable devotion to Bella. And all this as stories of anti-Semitism in the UK continue to play out as it takes to the stage in Exeter. It should be so relevant.
So what's the flaw? Simply that the play, whilst beautiful to look at, with music that's lovely to listen to, and the performances undeniably skilled, is an agonisingly dull story. It shouldn't be, but it is. It's 10 years since the Northcott was refurbished. When you begin noticing how uncomfortable the seats are, you realise you're not quite as captivated with the action on stage as perhaps you should be. A love affair spanning two world wars, mass migration, one of the most exciting periods in art since the Renaissance and a character who's artistic, religious and political background present themes that could fizz with excitement doesn't turn out to be that exciting. And that's a shame.