Gangta Granny review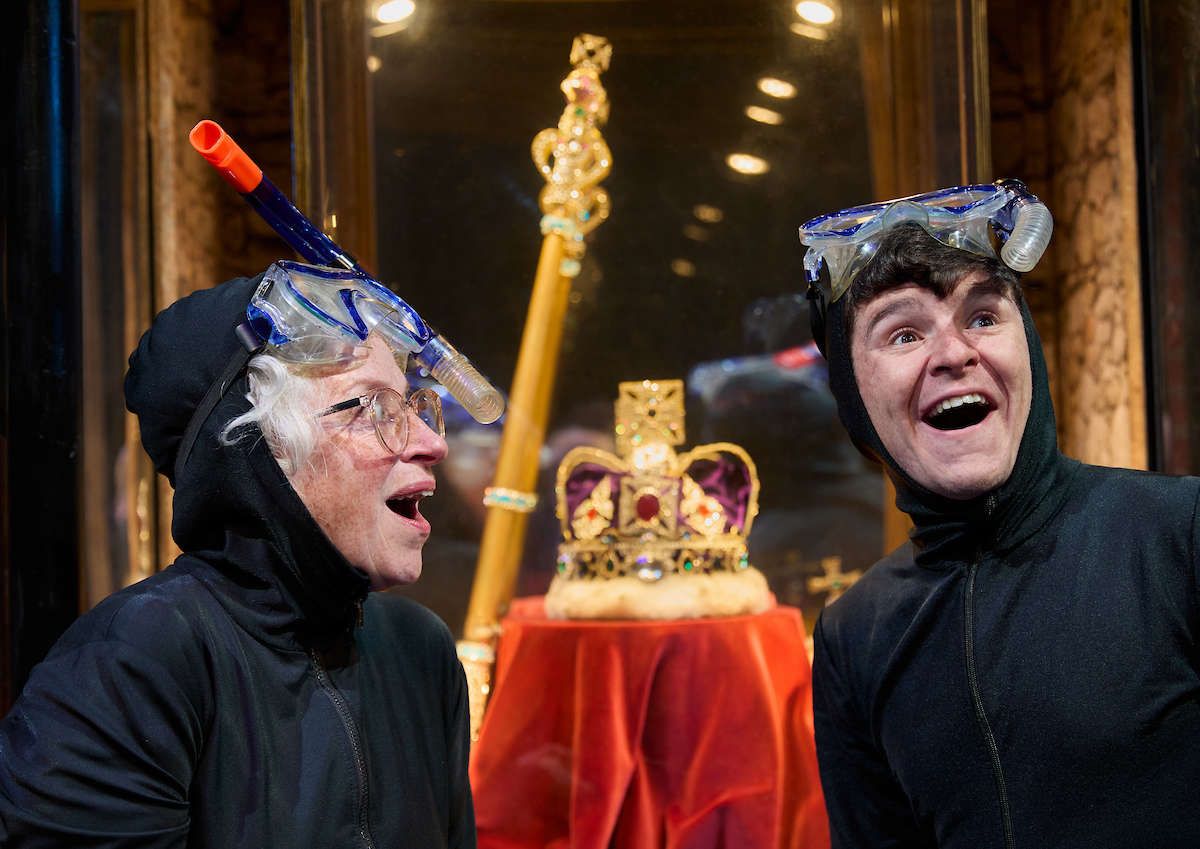 Granny gives Catwoman a run for her money
By Katrina Tudlong
Not even the notorious Catwoman is bold enough to pull off a grand heist to steal the Crown Jewels from the Tower of London. However, a young boy, interested in plumbing, and his retired, jewel thief grandmother are all that it takes to swipe these precious artefacts from a high-security facility.
Gangsta Granny, brought to life on stage by the Birmingham Stage Company, is a refreshing reminder that age is not a limitation to pursue one's dreams or lifelong ambitions. Loyal fans of David Walliams' books, and curious newcomers alike, will delight in this daring and ingenious play that features a crafty plan and an abundance of cabbage soup.
Expecting to endure a night of bland cabbage soup and endless Scrabble, Ben stumbles upon his grandmother attempting to rob a local jewellery store and confronts her, demanding an explanation. Granny, with her cover blown, reveals that she had not always been an unsuspecting and kindly old grandmother.
The old adage, 'back in my day', is especially true with Granny. At Ben's urging, Granny regales exciting stories from her youth as the world's most wanted cat burglar. Using a ladle and a laundry basket as a sharp sword and heavy armor, Granny smiles mischievously at Ben as she describes evading armed guards in India and fooling security systems in Russia. Enhancing Granny's stories, ensemble members interact with Granny as her enemies or provide background silhouettes by puppeteering giant heads of Asian elephants. The most impressive stylistic element that elevates the immersive storytelling is the sound design. From the scraping of metal as a sword is drawn to the nuances of heavy footsteps of soldiers on patrol, the sound effects perfectly match the actors' performances and enrich the scenes' comedic moments.
In what feels like an Ocean's 11 sequence of elaborate scheming, Ben comes up with a strategic master plan to prepare for his heist while avoiding his parents' suspicion. Enrolling in an Under 12's dance competition, Ben feigns interest in his parents' favorite hobby to allow him to finalize the details of his heist with Granny. His parents, ecstatic to transform him into a famous ballroom dancer, fail to see his lacklustre interest in it.
In a delightfully comedic scene at the dance competition, Ben awkwardly performs in front of the judges in a concerted effort to impress them. Dancing in a Valentine's Day inspired outfit and improvising his dance moves, Ben makes the audience laugh by unintentionally missing the beats of his competition music and by performing stiffly. Garnering heartfelt applause from the audience, but low ratings from the unamused judges, Ben ultimately looks to his parents for approval and is met with disappointment.
Ironically, Ben's parents' desire for their son to become rich and successful is momentarily achieved when Ben manages to use his passion for plumbing to consider stealing the Crown Jewels from the Tower of London and become unimaginably wealthy. His heist with Granny helps Ben to boost his self-esteem and begin realizing his potential in becoming a plumber. With Granny's constant encouragement and acknowledgement, and his parents' later approval, Ben rises to the ultimate challenge. Will his talents in plumbing lead to a successful heist or an unfortunate bust?
Gangsta Granny, produced by the Birmingham Stage Company and directed by Neal Foster, is at the Northcott Theatre from 21 April to 24 April 2022.