Ocean at the end of the Lane review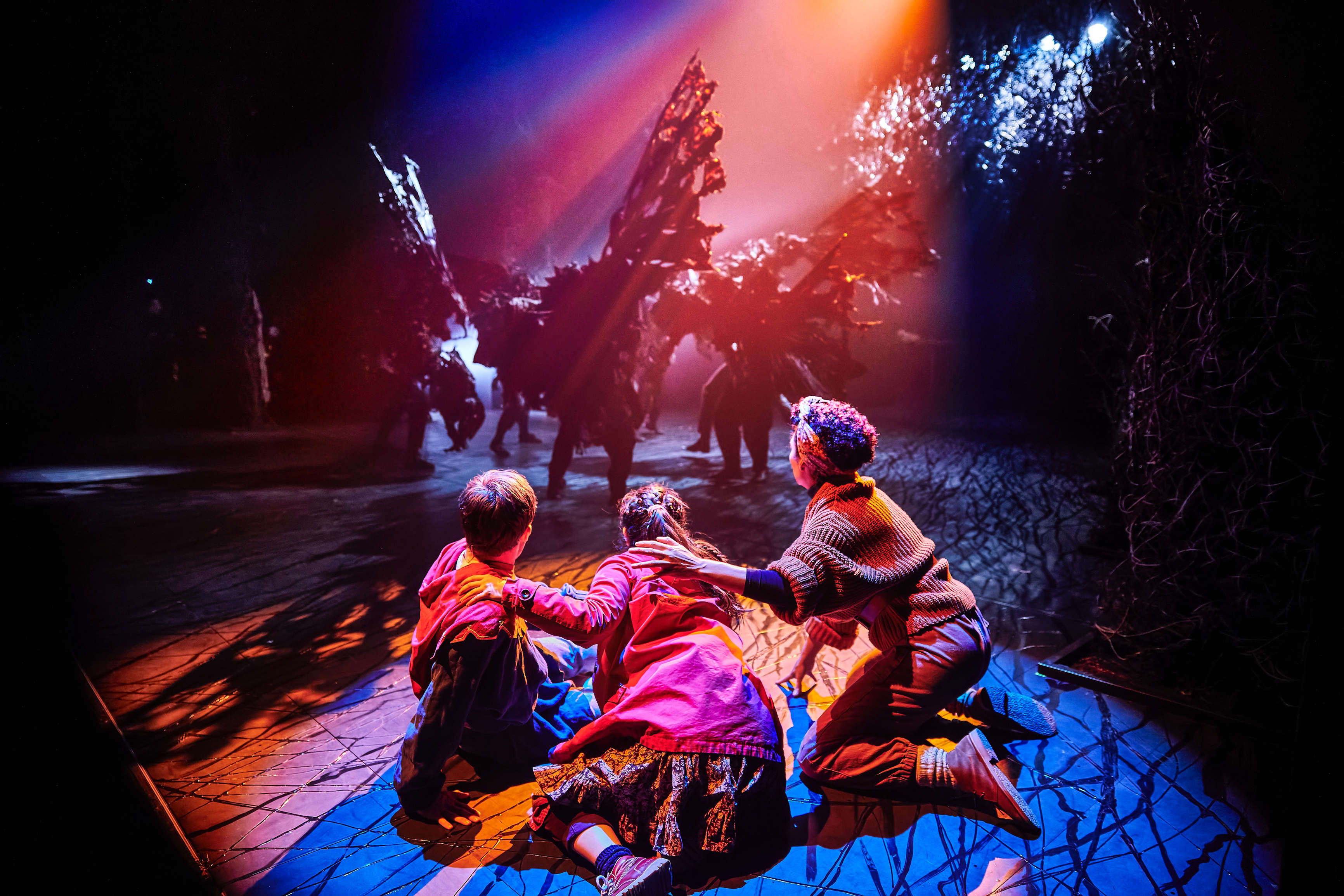 Ocean at the end of the Lane (image courtesty: National Theatre/ Theatre Royal Plymouth)
By David Marston

It's a bit of a shock to learn that a hit novel that many of us read when it was published 10 years ago, is now (already!) a school set text for GCSE students. Shouldn't our young people be studying the classics such as Great Expectations or Jane Eyre if they HAVE to read literature about growing up?
They have those classics of course, but having this glorious fantasy novel as well will appeal to many young people. In fact it might well appeal to those who remember being a child (and remember the powerlessness and growing scary knowledge that comes with growing up) more than it appeals to younger readers.
Bringing it to life on stage has been a triumph for the National Theatre which after successfully launching it on the South Bank transferred it first to the West End and has now set it off on a national tour.
Is it good? Yes. Does it retain the magic of the book? Undoubtedly, yes. Is it suitable for families? Well, take care. There are instances of suicide, physical abuse and a highly charged death scene that might give some people bad dreams. But Joel Horwood's adaptation of Neil Gaiman's novel is faithful to the spirit and the mood and the otherworldly magic of the original.
This story tells of a 12-year-old misfit, who doesn't have friends to come to a birthday party and who loses himself - or maybe finds himself - in the world of books rather than boxing as his dad suggests. But one day, he meets a girl from a nearby farm who is also a misfit, and they pair up.
Is she teasing him when she tells him that the duck pond at the end of the lane is really an ocean that she and her family once swam through to arrive at their farm?
And what about those dangerous things lurking on the edges of our world that she tells him about? But when a new lodger moves in and starts paying too much attention to his dad - he realises that those dangerous things are suddenly closer to home.
His growing realisation that the world is not as he believed it, is matched by the increasing magic of the evocative set (Fly Davis); the otherworldly movement of he stage hands and characters (movement director Steven Hoggett) and the extraordinary lighting (Paule Constable).
Under director Katy Rudd, this is a vivid and even visceral experience. Some of the performances are very broad and it is at its best when it turns the volume down and evokes the mystery and magic that suffuse this hauntingly melancholy and magical tale.
Keir Ogilvy as the boy and Millie Hikasa as his friend Lettie, carry the action heroically. Trevor Fox gives a subtle and understated performance as the struggling father and Charlie Brooks is genuinely chilling as Ursula, who seemingly appears from nowhere.
It's a feast for the senses - and you might think you'd have enjoyed school more if you'd had this sort of book to read.