Othello: Review at Theatre Royal Plymouth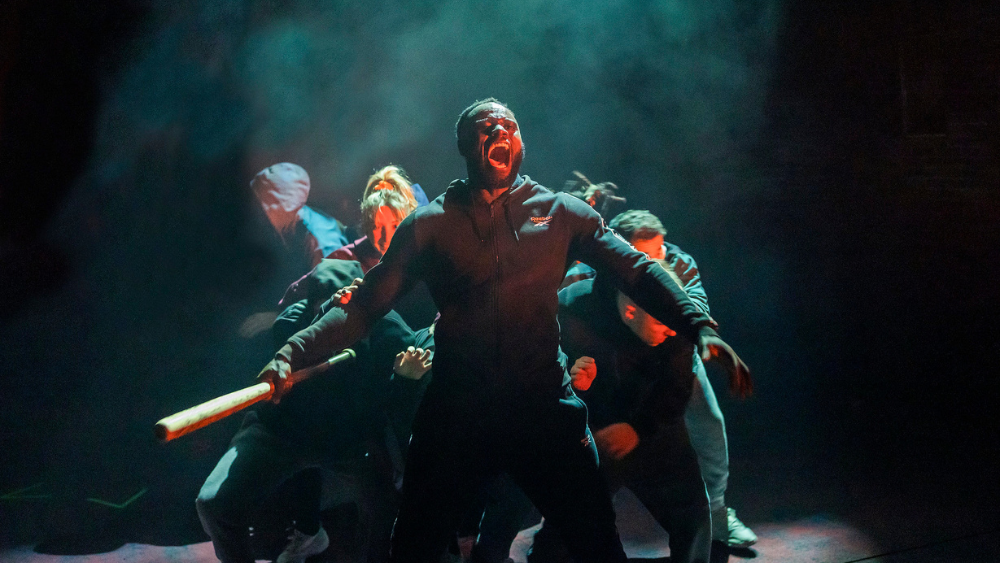 Image by Tristam Kenton
By Tom Yates

Othello by William Shakespeare
Frantic Assembly at Theatre Royal, Plymouth
Othello. A tale of traditional treachery, in the medium of modern, social young life. Beautiful language brought to life through the physical prowess of critically acclaimed touring company Frantic Assembly, Othello tells the story of deceit, and with it? Love.
Director Scott Graham, the company's co-founder, delivers a production of Shakespeare's tale of lover's jealousy, tested loyalties and a leaders down fall - in which the audience experiences the conflict amongst friends and foe, bearing arms of love and harsh rhetoric.
Theatre Royal Plymouth is the stylish venue, and the partner with which Frantic Assembly collaborated on this show in 2008. It is updated here, but the changes would pass by even those who have seen Frantic Assembly's signature production before.
It is a visual marvel, set in a down-at-heel bar with 21st century tracksuited urban characters addressing universal themes of life, love and jealousy. Old mysteries and conflict in dysfunctional modern Britain.
Michael Akinsulire's confident, steely Othello seeps with an undercurrent of subtle threat, his journey from lover and judge to remorseful murderer progressive and frightening.
He's three times the size of Chanel Waddock as Dedemona, as tender with her as she is as playfully flirtatious and loving with him. She has him in her fingers; puppy-dog love. It doesn't end well.
This version of Othello play for anyone over the age of 14 – Plymouth's Theatre Royal was packed with sixth formers, cheering to the thumping beat as the lights went down, on their feet for a standing ovation as they came back up.
If you're a teenager looking for a play packed with sex, violence and the best language literature can give you, Frantic Assembly's Othello is the one to see. It combines adult themes with gripping story, and enough action and suspense for even the most cynical student forced to study Shakespeare.
This Othello captivates the audience in a grip of illustrious theatre. If you want to understand how deceit and lies can play such an important role in life and death, this is the show to see.
Frantic Assembly's Othello runs at the Theatre Royal Plymouth until 15 October and then tours to York, Guildford, Oxford, Salford, Worthing, Southampton and Hammersmith.