ExeDAB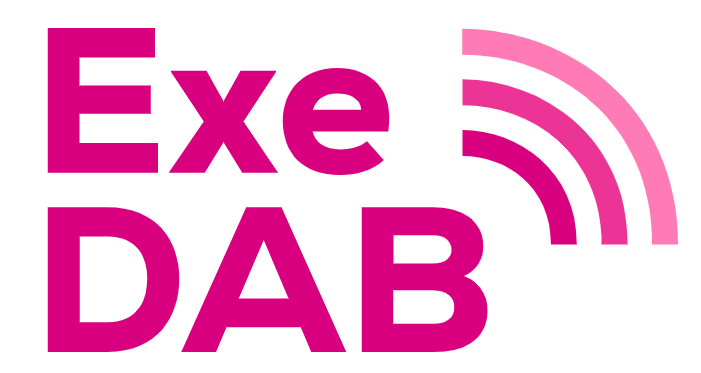 ExeDAB - a new company, backed by Radio Exe, aiming to bring more digital radio stations to Exeter in 2021. Please read our application below.
The city of Exeter sits on the eastern bank of the River Exe on a ridge of land backed by a steep hill. To the south of the city the Exe, joined by the River Clyst, opens onto a wide flood plain and estuary. The Exe defines Exeter, a Roman city with a proud heritage, a centre of commerce and culture, and a confident focal point of work, leisure and tourism in the south west. As the Exe defines Exeter, our new company ExeDAB defines our aspirations for the city's own DAB service.
As the regional hub and main population centre, a robust DAB signal throughout the city is of paramount importance to the success and sustainability of our multiplex. The vast majority of the population within the Polygon lives within an 8km radius of Exeter city centre. The location of the city and its surrounding topography, however, has presented considerable challenges in planning for acceptable and consistent small-scale DAB coverage.
Our proposition is founded on three principles:
1. Delivery of a reliable, consistent and high-quality DAB service to as much of the indoor population of the defined Ofcom polygon area for Exeter as possible;
2. Working to the original DCMS/Ofcom objective to make DAB affordable for community radio, small independent commercial stations and start-up services.
3. Achieving the above within a sustainable, long-term business plan.
Despite Exeter's relatively compact makeup, it proved impossible to cover the entirety of the city from a single transmission site. We have, therefore, after careful consideration of many potential locations throughout the polygon based on our extensive local geographical knowledge, opted for a two-site Single Frequency Network solution. The key site is at Barley Lane, a high point overlooking the city, with a second location at Sandygate to the south-east of the city centre.
The densely populated city centre and suburbs of Exeter, including Exwick, Alphington Pinhoe, Whipton and Stoke Hill will all receive excellent coverage. The main arterial commuter routes are all well served with a strong signal out to Sowton, Topsham, Clyst St Mary, Farringdon Clyst St George, Clyst Honiton and the growing Skypark and Exeter Science Parks to the east and south. Heading west from Exeter, key communities near the A30 corridor are well covered, as is the Exeter University campus and Stoke Cannon to the north.
We acknowledge that our projections suggest no coverage in and around the town of Crediton to the north-west of Exeter which is shielded from both our transmission sites by a small range of hills. Whilst Crediton itself has a population density of 1,802 people per square kilometre, the large rural areas between the town and Exeter are very sparsely populated with just 40 people per square kilometre. We considered, therefore, that the investment required for a third site would be incompatible with our proposal to offer DAB carriage at affordable rates. The new town of Cranbrook to the east will have partial indoor coverage and excellent outdoor reception. As this town grows (it presently does not have a town centre or many suburbs) it will become a major settlement larger than Crediton. We have indicative agreement for a transmitter site at Cranbrook and one near to Crediton should we be able to achieve our ambitions of an extended network later.
Overspill is very low and confined generally to areas east of the small villages of Woodbury Salterton and Aylesbeare.
If you're interested in launching a radio station, join our waiting list by contacting ashley@exedab.com.