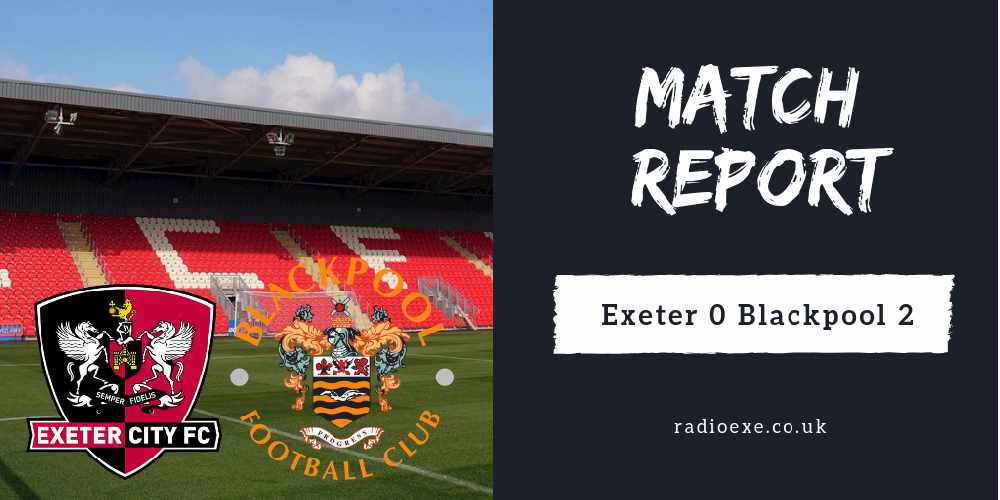 Exeter 2 Blackpool 3
Any hopes of facing a Premier League side were slashed this afternoon as Exeter City fell to a frustrating 3-1 defeat against Blackpool in the first round of the FA Cup.
City, who have a number of first team players missing through injury, have now lost three matches in a row. This result will hurt the most.
The FA Cup is a competition which has seen the Grecians welcome teams such as Manchester United (2005) and Liverpool (2016) to St James Park. But sadly, they have to wait another year for the opportunity to progress in the competition.
Blackpool, who beat the Grecians in the League 2 Play-Off final last year, dominated the opening half. And within just one minute, they took the lead. Joe Dodoo headed home from an early cross.
City came close to equalising through Jonathon Forte, but his shot inside the box was well saved by the goal keeper.
Mid way through the opening 45 minutes, city suffered another huge blow. In the space of five minutes, Blackpool scored two more. And suddenly, the Grecians had a very steep hill to climb.
Mark Cullen scored from a corner soon before Harry Pritchard found the back of the net with a shot from inside the six yard box as it finished 0-3 at half-time.
The visitors weren't resting on their laurels in the second-half. City's James Hammons was required to stop a shot superbly to deny a fourth as the visitors continued to pose a threat going forwards.
City's Jordan Tilson gave his side a glimpse of hope by scoring Exeter's first goal of the game. Archie Collins was taken down in the box, which resulted in a penalty for city. Pierce Sweeney missed it, but Tilson latched onto the rebound and smashed it into the back of the net.
Matt Taylor's side were suddenly pumped with confidence and had their tales up in the later stages of the game. In the 90th minute, Exeter scored another. Abrhams' deselected shot found the back of the net following mounted pressure on Blackpool's defence.
The Grecians threw men forward in pursuit of the equaliser, balls were flying into the heat of Blackpool's box and the Big Bank stand was roaring. But in a nail biting ending, the visitors held on to secure the win.
Attendance: 3,188