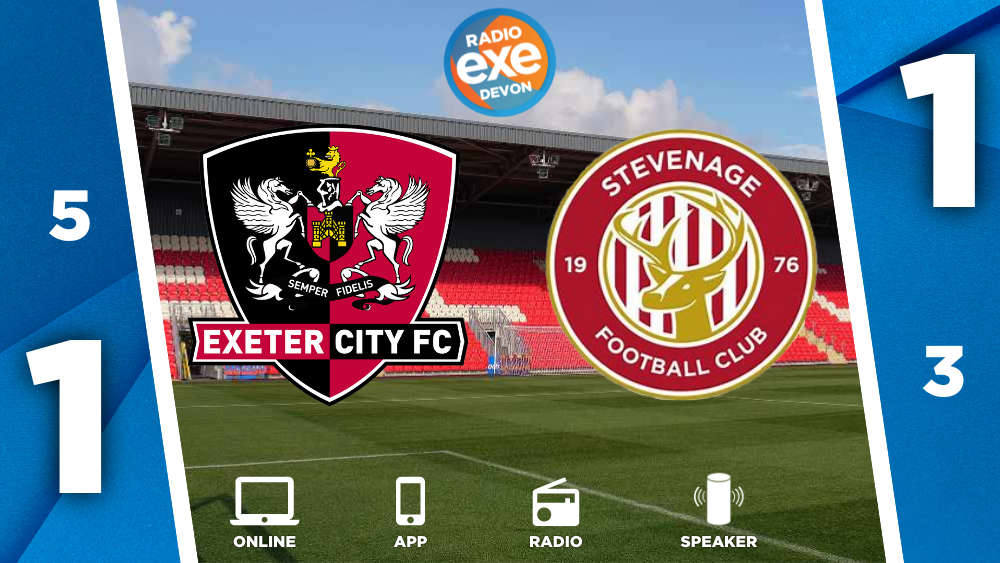 City through to third round in EFL cup
A tight affair at SJP as City beat over League 1 outfit Stevenage on penalties in the EFL cup to put them through to the third round - where all teams enter the competition.
The two teams have had practically identical starts to the season in League 1, with both sitting on ten points after five games - although City are currently three positions higher in second place due to goal difference. Neither team have conceded many either - Stevenage have only let in three so far - City one less! Last year at this stage Exeter went out on penalties to Wycombe Wanderers - they'll want to go at least one step further this time.
Exeter are without star striker Sam Nombe after rumours of a move to Rotherham this week - his absence from the line-up essentially confirming this. After the loss of Collins, Kite and Key among others earlier in the window, City are now down to only two academy graduates in the starting line-up in Alex Hartridge and Sonny Cox - a bit of a difference from the last few years when the team has been very academy-dominated.
The Grecians burst to life instantly with an ideal start - a good bit of play from winger Vince Harper down the left-hand side won a corner, with Reece Cole swung in right to Hartridge, who's header was originally blocked but tucked away the rebound on the half-volley. Only Hartridge's second goal in red and white, and his first since 2020.
Reece Cole has shown himself to be a commanding figure in midfield for City this season after signing from Scotland last month, his main highlight being Saturday's last minute winner against title favourites Reading. HIs presence in the center of the park is exemplified by his loud commands - a vivid comparison to last season's silent but effective command from Archie Collins.
The game stayed pretty quiet for the majority of the half - Exeter had most of the possession but didn't really push forward, and Stevenage did attack but nothing ever looked like it was going to happen. Around the 40th minute though there was a flourish of activity - Boro had their best chance so far when a hard drilled shot from winger Elliot List was sharply saved by City keeper Sinisalo, followed by a quick Exeter break led by Ilmari Niskanen, who dribbled past two and played it into a hesitant Sonny Cox, but the ball was nicked away from him by Stevenage CB Dan Butler.
If the end of the first half was eventful, the start of the second was a riot. Straight off the bat a long ball was played into Boro striker Jamie Reid, hitting the post from a tight angle before being called offside. Vince Harper then turned up the skill twice in three minutes, skinning his opposite number both times, playing in a cross just missed by Demetri Mitchell the first time, and teeing up Jack Aitchison to blast it just over the second. Gary Caldwell's team talk had obviously included a 'just run at him!'
Exeter continued to dominate and Stevenage started to see no sign of goal. The centre-back pairing of Captain Will Aimson and goal-scorer Alex Hartridge plugged any gaps in defence easily, as they have all season. The Boro players were obviously getting frustrated -Aitchison was pushed into the billboards by newly-subbed Reece Hannan, resulting in a forced sub due to head injury and a yellow card - followed quickly by another yellow as Harper's victim Butler gets fed up and swipes his legs out.
But perhaps this just riled them up - winger Harry Anderson beat his man, got the ball in the box and striker Jordan Roberts was there to head the ball past a fully-stretched Sinisalo. Definitely against the run of play, but a good goal nonetheless.
Both sides had a few more chances before the end of the game, but Stevenage couldn't beat on-loan Aston Villa keeper Sinisalo and City couldn't beat on-loan West Ham keeper Kristjan Hegyi! Full time came - no extra time in the EFL Cup, so straight to penalties. Stevenage beat Watford on pens in the last round - but the coin flip went Exeter's way, meaning the kicks were taken in front of the Big Bank.
Ryan Trevitt scored first for City, sending Hegyi the wrong way and slotting it bottom right. Jamie Reid followed with a blast down the centre, remaining cool despite all the boos and jeers. Both sides scored their second - but only City's Will Aimson scored the third. Sinisalo easily stopped Dan Butler's dribbly shot - sending the Big Bank into rupture. Both the next were slotted away - and Pierce Sweeney confidently struck it home to send City through to the third round. They could play anyone - the draw is tomorrow at 10.15pm, following Doncaster vs Everton at 8.
Exeter City : Stevenage :
Ryan Trevitt ✅ Jamie Reid ✅
Tom Carroll ✅ Jordan Roberts ✅
Will Aimson ✅ Dan Butler ❌
Kyle Taylor ✅ Dan Sweeney ✅
Pierce Sweeney ✅
EXETER CITY STARTING 11 -
Sinisalo, Jules, Aimson (C), Hartridge (⚽), Trevitt, Cole, Niskanen, Cox, Sweeney, Aitchison, Harper
SUBSTITUTES -
Woods, Carroll, Mitchell, Rankine, Taylor, Beardmore, Diabate, Borges, Richards
STEVENAGE STARTING 11 -
Hegyi, Butler, Thompson (C), Sweeney, MacDonald, List, Roberts (⚽), Burns, Neal, Thompson, Alexandrou
SUBSTITUTES -
Piergianni, Anderson, Reid, Hannam, Ashby-Hammond, March, Hicks