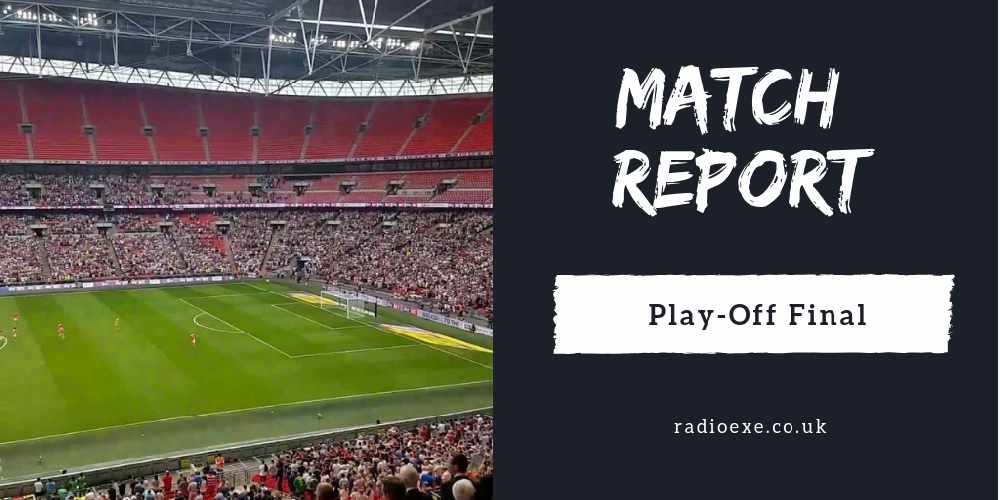 Three second-half goals from Coventry sealed a comfortable 3-1 victory
Match report sponsored by Flybe. Proud sponsors of Exeter City FC.
After a goalless first-half, Coventry scored three goals in quick succession in the second 45 minutes. Kyle Edwards, who came off the bench, pulled a late goal back for Exeter but it only proved to be a consolation.
The Grecians were looking to give club legend and director of football Steve Perryman, who is retiring after 15 years with the Grecians, the perfect send off this afternoon. But it wasn't to be.
Paul Tisdale's side know how it feels to lose a final at Wembley. Last year, Blackpool. This year Coventry, a team that were last on this ground facing Oxford in the ChekaTrade Trophy, which they won. So both teams have recent experience of this big stage.
Exeter, who have spent the past six seasons in League Two, made one change to the side that beat Lincoln 3-1 in the semi-final: Craig Woodman replaced Robbie Simpson.
In the opening 15 minutes, Coventry looked the most threatening. Dominating possession, they created goal-scoring opportunities. City's player of the season, Christy Pym, was required early on to stop a long range effort from McNulty before his central defender Jordan Storey blocked another shot inside the box. Semi-final hero Hiram Boateng also made a smart clearance following successive crosses.
After 30 minutes of Coventry dominance, Exeter began to find their rhythm. The ball, zipping along the supreme Wembley turf, found its way to Ryan Harley just outside the box who had his shot saved by the keeper. It finished 0-0 after 45 minutes.
Just three minutes into the second-half, Coventry took the lead. Jodan Willis curled his effort from outside the box past a diving Pym into the bottom left corner. The Coventry fans, who had three times the Exeter supporters, roared their side on sensing another goal – and it came. Coventry attacker Jordan Shipley saw his deflected effort bounce of Pierce Sweeney into the back of the net. City found themselves two goals down.
Paul Tisdale reacted instantly. With an attacking mind set, Llyod James and Matt Jay replaced Craig Woodman and Dean Moxey. But as they committed men forward, Coventry counter attacked to score their third. Jack Grimmer curled another long range effort past Pym to secure the win.
City substitute Kyle Edwards gave Exeter a glimpse of hope as he pulled a late goal back. But it only proved to be a consolation.
Full-time: Exeter City 1 Coventry 3
Attendance: 50,196