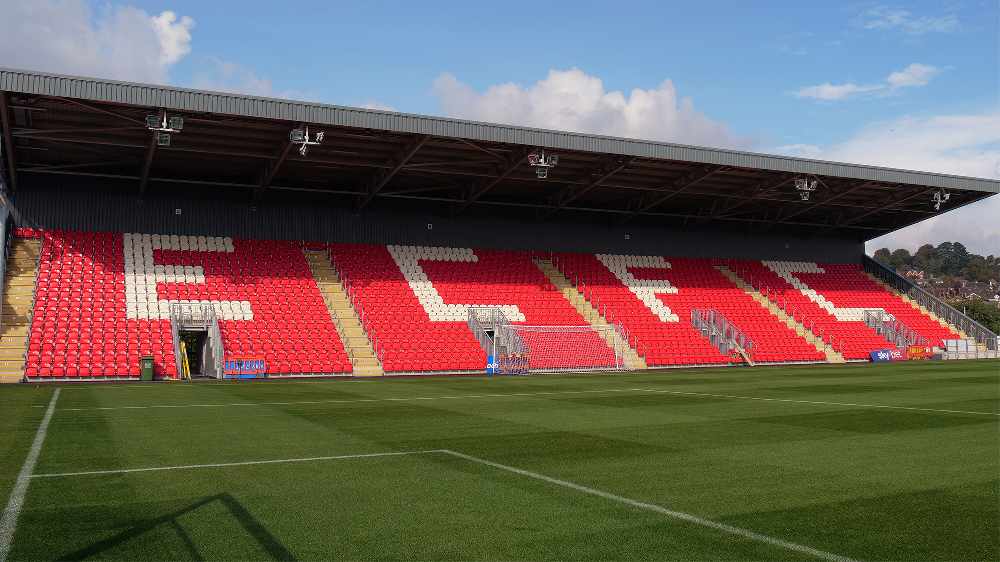 Exeter and Plymouth play for the first time since 2019
The fixture list for the next League One season has been announced.
Exeter City's first match of the season involves a trip to Lincoln, who they last played in 2019.
The Grecian's first home match of the season will be against Port Vale with their final match of the season being at home to Morecombe.
The first Devon derby will be at Home Park on Saturday 29 October.
On the green side of the county, Plymouth Argyle open the season at home to Barnsley and end the season away to Port Vale.
Here's Exeter City's full fixture list
July
Sat 30 Jul - Lincoln City (A)
August
Sat 6 Aug - Port Vale (H)
Sat 13 Aug - Cambridge United (A)
Tues 16 Aug - Wycombe Wanderers (H)
Sat 20 Aug - Cheltenham Town (H)
Sat 27 Aug - Accrington Stanley (A)
September
Sat 3 Sep - MK Dons (H)
Sat 10 Sep - Charlton Athletic (A)
Tues 13 Sep - Shrewsbury Town (A)
Sat 17 Sep - Burton Albion (H)
Sat 24 Sep - Forest Green Rovers (A)
October
Sat 1 Oct - Bristol Rovers (H)
Sat 8 Oct - Barnsley (A)
Sat 15 Oct - Oxford United (H)
Sat 22 Oct - Fleetwood Town (H)
Tues 25 Oct - Derby County (A)
Sat 29 Oct - Plymouth Argyle (A)
November
Sat 12 Nov - Peterborough United (H)
Sat 19 Nov - Ipswich Town (H)
December
Sat 3 Dec - Morecombe (A)
Sat 10 Dec - Sheffield Wednesday (H)
Sat 17 Dec - Bolton Wanderers (A)
Mon 26 Dec - Portsmouth (H)
Thurs 29 Dec - Bristol Rovers (A)
January
Sun 1 Jan - Oxford United (A)
Sat 7 Jan - Barnsley (H)
Sat 14 Jan - Forest Green Rovers (H)
Sat 21 Jan - Portsmouth (A)
Sat 28 Jan - MK Dons (A)
February
Sat 4 Feb - Charlton Athletic (H)
Sat 11 Feb - Burton Albion (A)
Tues 14 Feb - Shrewsbury Town (H)
Sat 18 Feb - Port Vale (A)
Sat 25 Feb - Cambridge United (H)
March
Sat 4 Mar - Wycombe Wanderers (A)
Sat 11 Mar - Lincoln City (H)
Sat 18 Mar - Cheltenham Town (A)
Sat 25 Mar - Accrington Stanley (H)
April
Sat 1 Apr - Fleetwood Town (A)
Fri 7 Apr - Bolton Wanderers (H)
Mon 10 Apr - Peterborough United (A)
Sat 15 Apr - Plymouth Argyle (H)
Tues 18 Apr - Derby County (H)
Sat 22 Apr - Sheffield Wednesday (A)
Sat 29 Apr - Ipswich Town (A)
May
Here's Plymouth Argyle's full fixture list
July
Sat 30 Jul - Barnsley (H)
August
Sat 6 Aug - Fleetwood Town (A)
Sat 13 Aug - Peterborough United (H)
Tue 16 Aug - Charlton Athletic (A)
Sat 20 Aug - Forest Green Rovers (A)
Sat 27 Aug - Bolton Wanderers (H)
September
Sat 3 Sep - Derby County (A)
Sat 10 Sep - Sheffield Wednesday (H)
Tue 13 Sep Oxford United (H)
Sat 17 Sep Portsmouth (A)
Sat 24 Sep Ipswich Town (H)
October
Sat 1 Oct - Wycombe Wanderers (A)
Sat 8 Oct - Accrington Stanley (H)
Sat 15 Oct - Milton Keynes Dons (A)
Sat 22 Oct - Bristol Rovers (A)
Tue 25 Oct - Shrewsbury Town (H)
Sat 29 Oct - Exeter City (H)
November
Sat 12 Nov - Lincoln City (A)
Sat 19 Nov - Burton Albion (A)
December
Sat 3 Dec - Port Vale (H)
Sat 10 Dec - Cambridge United (A)
Sat 17 Dec - Morecambe (H)
Mon 26 Dec - Cheltenham Town (A)
Thu 29 Dec - Wycombe Wanderers (H)
January
Sun 1 Jan - Milton Keynes Dons (H)
Sat 7 Jan - Accrington Stanley (A)
Sat 14 Jan - Ipswich Town (A)
Sat 21 Jan - Cheltenham Town (H)
Sat 28 Jan - Derby County (H)
February
Sat 4 Feb - Sheffield Wednesday (A)
Sat 11 Feb - Portsmouth (H)
Tue 14 Feb - Oxford United (A)
Sat 18 Feb - Fleetwood Town (H)
Sat 25 Feb - Peterborough United (A)
March
Sat 4 Feb - Charlton Athletic (H)
Sat 11 Feb - Barnsley (A)
Sat 18 Feb - Forest Green Rovers (H)
Sat 25 Feb - Bolton Wanderers (A)
April
Sat 1 Feb - Bristol Rovers (H)
Fri 7 Feb - Morecambe (A)
Mon 10 Feb - Lincoln City (H)
Sat 15 Feb - Exeter City (A)
Tue 18 Feb - Shrewsbury Town (A)
Sat 22 Feb - Cambridge United (H)
Sat 29 Feb - Burton Albion (H)
May
Sat 6 May - Port Vale (A)