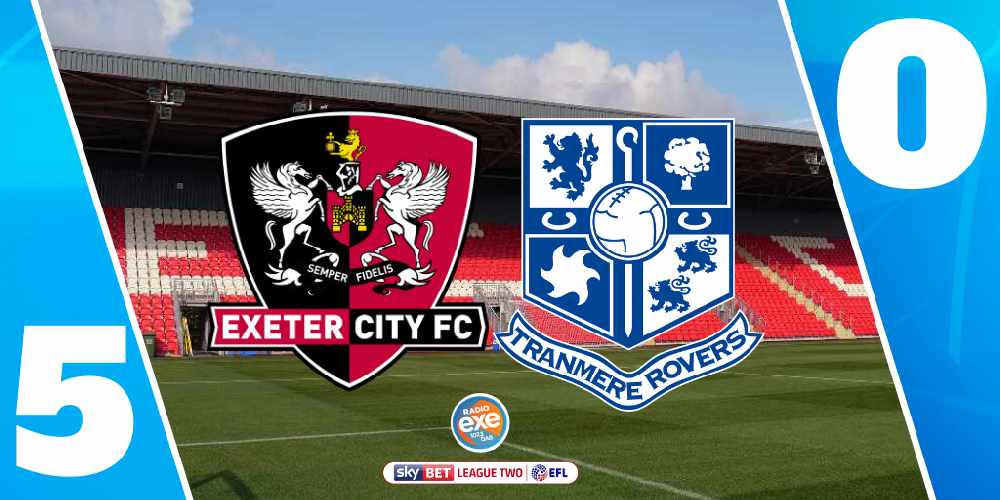 Exeter City fans welcomed back with scintillating five-star display
Exeter City return to winning ways with an emphatic 5-0 win against Tranmere Rovers in the first league match at St James Park with fans for 284 days.
2,000 home supporters were socially distanced inside the stadium to watch City tear Tranmere apart for their 8th league win of the season, which takes them back into the promotion places.
Ryan Bowman bagged his second hat-trick for the club, Matt Jay scored on his 100th appearance and captain Jake Taylor notched his fourth goal of the campaign to seal the three points.
Unchanged side from last Saturday's league defeat, City dominated the opening period with a scintillating first-half display.
Ryan Bowman gave the hosts a deserved lead just 8 minutes in. Matt Jay threaded through a delightful pass for the centre forward, who poked the ball past the defender before firing it into the top corner.
Jay, who made his 100th appearance for the club today, marked the iconic landmark with a second City goal ten minutes later. The 24-year-old sent the goalkeeper the wrong way with a penalty kick after Joel Randal was tripped in the box.
Exeter's man of the moment, Bowman, notched another goal on the half hour mark. City's top goal scorer this season tackled Trammer's Callum McDonald inside the area before guiding another effort into the back of the net.
Bowman came close to bagging his second hat-trick of the season with a first-time volley just outside the box – but his effort went just wide of the post.
City's goalkeeper Jonny Maxted just one save in the half – and it came in the 45th minute when he tipped over a long-range effort over the bar. Exeter led 3-0 at the break.
The second half wasn't as high intensity as the first, but Exeter did well to control possession and land the killer blow 70 minutes in. Randal whipped in a pin-point accurate cross for Jake Taylor – and the captain smashed the ball home on the edge of the box.
Exeter weren't resting on their laurels though, less than two minutes later, City scored a fifth. Bowman was the scorer to bag his second hat-trick of the season. Jake Taylor released Randal in the box who found himself one on one with the keeper – but he unselfishly squared the ball to Bowman who tapped the ball into an empty net.
Full time: Exeter City 5 Tranmere Rovers 0