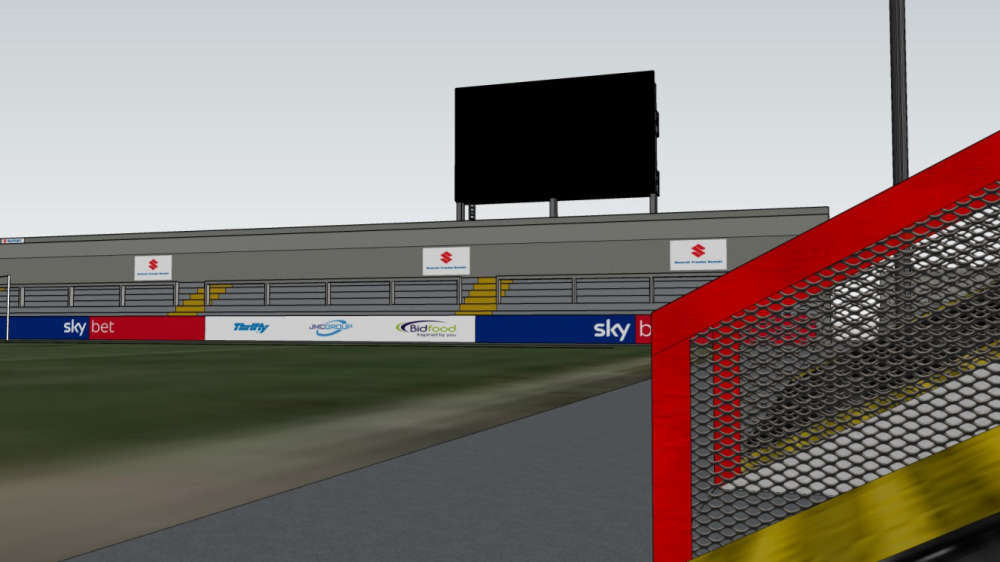 Could be at St James Park within weeks
A giant new electronic screen at Exeter City Football Club's ground, St James Park, is finally on the way and could be in place within weeks.
As part of major improvements, the club will install a 29 x 17-feet (8.64 x 5.12 metre) LED screen towards the corner behind the St James Road away end, nearest the recently built Stagecoach Adam Stansfield Stand.
Following approval by Exeter City Council's planning department after no objections or comments were received, it is likely to go up in the next few weeks, possibly in time for League Two matches against Forest Green Rovers on Saturday 4 September or Sutton United two weeks later.
The big screen forms part of the supporter-owned club's plan to generate average crowds of six thousand fans, dubbed 'Project 6000', which they say will enable them to become a sustainable League One club if they get promoted. The club last played in that division in 2012.
Exeter averaged crowds of 4,847 in the 2019/20 season before covid forced its curtailment.
Following the sale of several high-profile players in the last few years, including millions of pounds from the transfer of England and Aston Villa striker Ollie Watkins, initially to Brentford, and previously of Ethan Ampadu to Chelsea, the club has made a series of investments to help with the goal.
Permission for the giant screen comes after major work was carried out to improve the playing surface at St James Park. Money is also being spent on improving the club shop and purchasing a building called The Park that adjoins the stadium. It is currently owned by a group of local business people in a consortium called OTR.
It has not been revealed how much the new screen or other investments cost.
In March, when the club announced the plans, Supporters Trust chairman Nick Hawker said: "All of our major financial decisions are robustly examined. We believe each of these items is as important as the other for various reasons, and each will continue to stand us in good stead for the future.
"We often hear requests and discussion from our fans regarding a digital scoreboard and it is something we have been exploring for some time, so we're really pleased to be able to inform people of that decision."
The club believes the screen will improve the matchday experience for supporters, whilst also providing additional commercial opportunities from advertising.
Mr Hawker added: "Investing in the improvements to the pitch, some of which are overdue, because of the shortened window caused by successive years in the play offs, will obviously bring huge benefits for our players and finally, buying OTR which will give ownership of The Park building, an integral part of our stadium, and will mean the club owns a significant asset at St James Park."
Exeter City Council owns St James Park, which is leased to the football club.