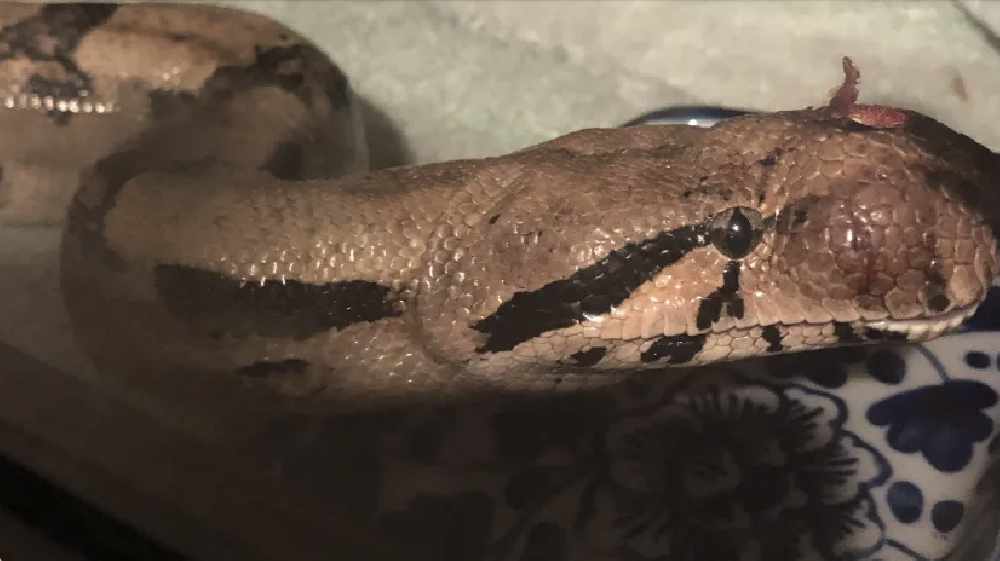 Image: RSPCA
Injured reptile has severe injuries
The RSPCA are appealing for information after a five-foot-long snake was found abandoned in a box with a severe head injury in Brixham, Devon.
A member of the public discovered the box in Drew Lane at around 8am on Tuesday (March 16) and called the animal welfare charity for help. The reptile was later rushed to emergency veterinary treatment, where it was discovered that there had been a blunt trauma to the nose which had caused an abscess.
The vet drained the wound which now needs to be cleaned twice a day by the charity's animal carers.
Megan Higgins, a rescue officer for the RSPCA, has urged the public to do their research before buying a snake. "Reptiles often end up in the care of the RSPCA after people realise they're not easy to care for," said Megan.
"Unfortunately, many people are unaware of how much of a commitment these animals are when they take them on, as their needs are just the same as they would be in the wild and are fundamentally linked to certain behaviours, diets or environmental conditions that can be difficult to replicate in a home.
"Reptiles may look resilient and tough on the outside but they are actually completely reliant on their owners to provide the correct environment for the species, including heating and lighting, and an appropriate diet - all of which are essential to keep them healthy and allow them to carry out their natural behaviour."