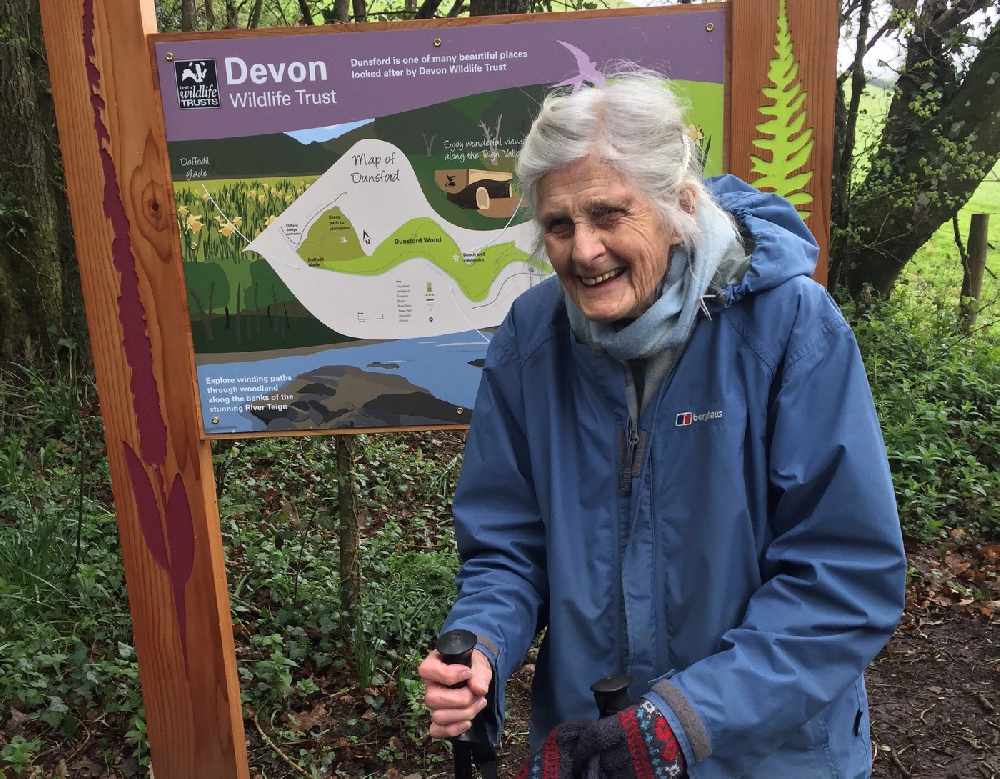 Mary Truell from Lympstone is raising money for the Devon Wildlife Trust
A 91-year-old Devon woman will visit all 50 of Devon Wildlife Trust's nature reserves to raise awareness of the growing threats to local wildlife.
The reserves span the whole county, from the rocky coasts of North Devon to the dry heathlands of East Devon.
Mary said:"I'm doing this challenge to raise awareness of the importance of protecting our natural environment and the urgent necessity for us all to reconnect with nature. I also want to help support the work of the Devon Wildlife Trust as it champions the cause of the local environment."
She started in May this year and has so far visited 30 of the 50 nature reserves. Highlights have included spending time among swathes of Dartmoor bluebells at Emsworthy nature reserve; listening to skylarks at Teigngrace Meadow reserve (near Chudleigh) and discovering the solitude of Hawkswood reserve near Honiton.
Having spent much of her married life abroad, Mary also sees her challenge as a great way of getting to know her adopted county of Devon better. Mary said:
"I travelled a great deal. My late husband George was in the army so raising a family meant life in Ethiopia and Malaysia. We came to Devon in 1988. Together we walked many miles of its countryside trying to get a fuller understanding of this greatly diverse and exciting part of England. I realise now how little I understood about where I walked. Our feet leaned the terrain, our lungs were cleansed with fresh air and our hearts gladdened by the scenic beauty. But what about our heads? Do we really understand why it is so vital we stop destroying our companions in nature?"
So far Mary's efforts have raised nearly £4,500 for the work of the Devon Wildlife Trust. The charity's Steve Hussey said:
"Mary is a remarkable person. Her passion for local wildlife has fuelled her sense of adventure and I'm so thankful that she has chosen Devon Wildlife Trust as the beneficiary. I've accompanied Mary on several of her visits to our nature reserves and she combines great determination with a deep interest in the natural world around her. She is an inspiration!"
Mary hopes to complete her 91 mile and 50 nature reserve challenge this autumn. People can support her efforts by making a donation here.