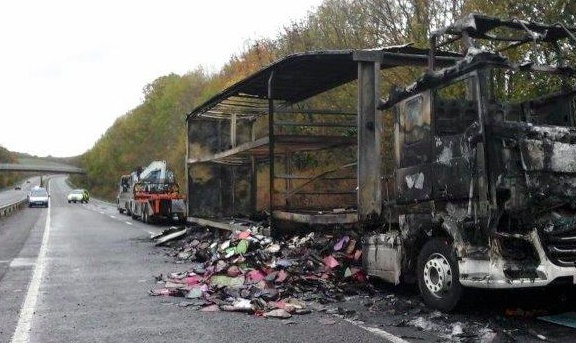 Credit: Highways England
Serious lorry fire near Alphington Junction
Fire Crews and Police are still on the scene of a serious lorry fire just outside Exeter.
They were called to the A30 between Fingle Glen and Alphington just after 1045 last night (Monday 5th November)
Police quickly closed the road in both directions because of the intensity of the fire and the tyres on the lorry were exploding.
Fire crews say the lorry was carrying a paper based load. At 0200 this morning (Tuesday 6th November) they started to drag material out and dampen down.
Some lanes have been open temporarily to allow police to escort vehicles past the scene. But Highways England has tweeted to say they expect the eastbound carriageway to be closed for most of today because of damage to the road surface.