Structural examination of buildings ongoing
Structural assessments of buildings near the location of a controlled explosion have resumed on Sunday morning. It following the detonation of a suspected World War Two bomb on Glenthorne Road, near the Exeter University campus on Saturday evening.
Police and partner agencies, including Devon County Council and Exeter City Council and various utility companies, are working hard in the hope evacuated residents will be able to return home on Sunday.
They had been told before the explosion that they may be able to go back once the bomb had been destroyed. The size of the explosion, which left a crater the size of a double decker bus and spread debris 250 metres, meant that wasn't possible and they've been told not to return to their homes until further notice.
A council helpline closed is open until 5pm today for any evacuated residents needing support or advice: 0345 155 1015.
The council has specified that the helpline is for residents who need help and support, and advisors will not be able to give information about damage to specific properties.
The controlled detonation of the device, believed to be a 1,000 kg 'Hermann bomb' used by the Nazis in the Second World War, took place at 6.10 p.m. on Saturday.
All 2,600 properties, including around 1,400 students from Exeter University halls of residences, within a 400-metre cordon, had been evacuated earlier in the day.
Police say "extensive work to mitigate the impact of the blast, including the laying of 400 tonnes of sand, the building of walls and the digging of trenches, was implemented by Royal Navy and Army bomb disposal experts.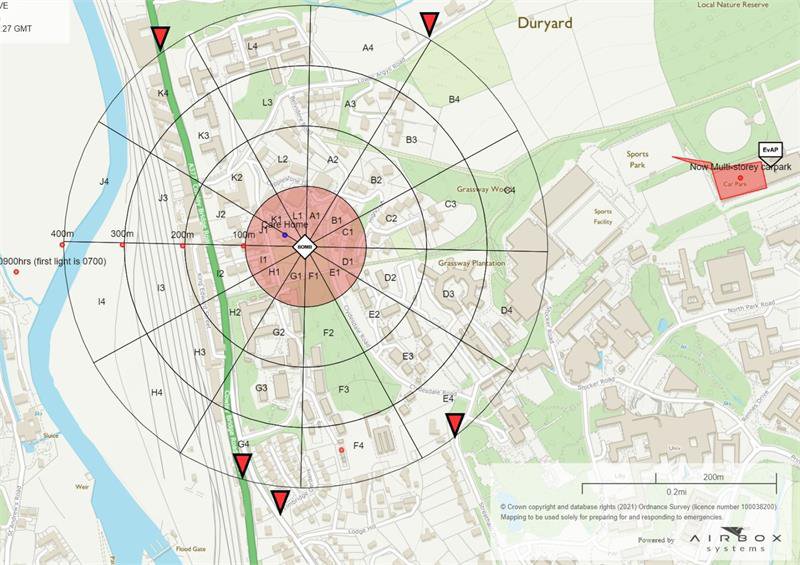 "However, unfortunately structural damage has been caused to some buildings, primarily within the 100-metre cordon, including blown-out windows and cracks in brickwork.
"Every effort is being made this morning to ensure structural assessments are conducted as soon as possible so that residents can return home later today."
The Hermann bombs, known as SC1000s, were given the nickname after Hermann Goring, the Nazi Luftwaffe commander and war criminal. In 1941, a year before the Exeter Blitz, he was named as successor as Furer in the event ot Hitler's death. He famously asked to be shot as a soldier rather than hanged as criminal following his trial, but escaped the noose after committing suicide by taking a cyanide pill on the night before his execution.
Watch the moment the bomb exploded here.