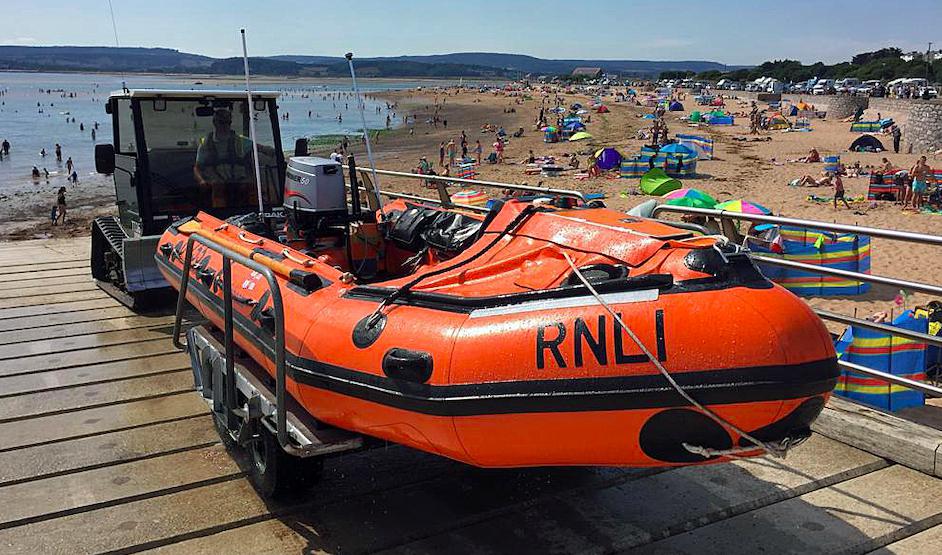 Exmouth inshore lifeboat (courtesy: Exmouth RNLI)
Called out twice within hours
Just hours after the RNLI warned people that demands on their services was getting ever higher, placing their volunteers at risk, Exmouth's lifeboat crews had busy Saturday afternoon, being called to two assignments within a short time.
First, at around 2.15 p.m., two people in a dingy off Red Rock near Dawlish Warren were seen in apparent difficulty, making no progress in the water. The inshore iifeboat sped to the area, but it turned out their help wasn't needed. The people in the dingy were instead provided with safety advice by the crew. That took an hour out of the day, before the lifeboat was back on service at its Exmouth based at 3.15 p.m.
Less than 10 minutes later, lifeguards on the beach at Sandy Bay, to the east of Exmouth, called for assistance to administer first aid to a teenager who had dislocated his knee. Back to sea went the inshore lifeguard, with the crew helping those already on the scene deliver first aid and pain medication to the 18-year-old boy.
He may have been in too much pain to enjoy the rip too much, but because of the boy's condition and his location at Sandy Bay, he got a trip in the lifeboat back to Exmouth, from where he was taken to hospital for further treatment. The inshore lifeboat was back on station at around 5 p.m.
Exmouth RNLI helm Guy Munnings, who commanded the lifeboat during both emergencies, said: "We were very pleased to have been of service on both occasions."