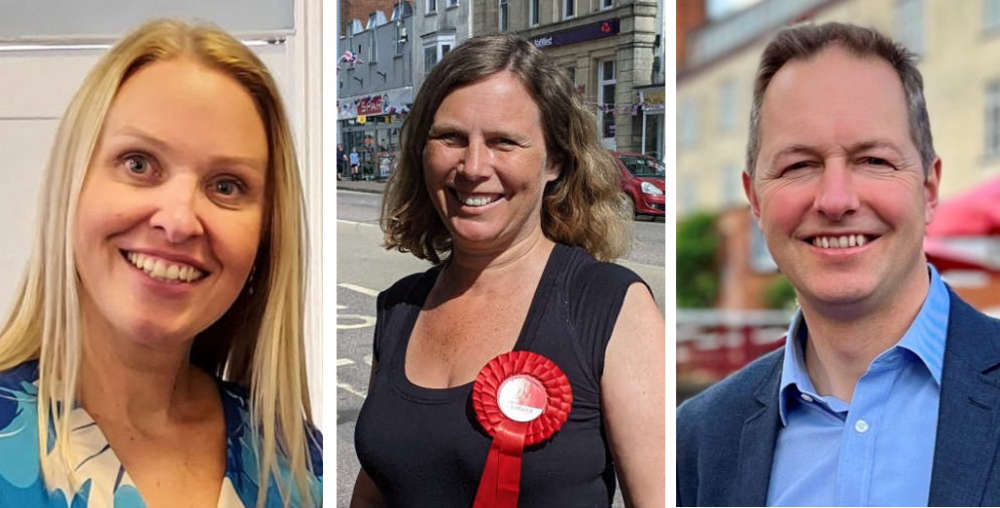 Helen Hurford, Liz Pole and Richard Foord are among eight candidates for Tiverton and Honiton
Conservatives accused of underinvestment
The Conservatives have defended their record in Devon after being accused of a lack of investment by Labour and the Liberal Democrats.
The two parties' candidates both made the claim ahead of the upcoming Tiverton and Honiton by-election next week, when voters will pick a successor to disgraced former MP Neil Parish.
Tory candidate Helen Hurford backs a new town centre relief road in Cullompton, despite her government rejecting a bid for cash last year as part of its 'levelling-up' fund. A fresh application is now being made as part of round two of the programme.
Her political opponents, who are also in favour of the road, point to the first request being turned down as evidence for the Conservatives prioritising money for other parts of the country instead.
Lib Dem candidate Richard Foord said: "We're seeing levelling-up funding invested very heavily in the north of England and the Midlands, in what were regarded as Labour-Conservative marginals.
He claimed local residents "regard it as something that the Conservative government is seeking to use to try to retain their constituencies that they won for the first time in 2019 in the north of England and the Midlands.
"People here often don't consider that levelling-up has anything to do with Devon, because we're not seeing the investment, we're not seeing the money coming our way."
Mr Foord, a 44-year-old former army major, said the fact that a new high school has yet to be built in Tiverton is further evidence the Tories have "taken this part of Devon for granted."
"I can point you to newspaper clippings from 2010 where Michael Gove, as education secretary, promised to come and visit Tiverton and see what the problems were. And actually, Tiverton High School has received next to nothing since then.
"And certainly the attention that it gets from the government from Conservative politicians seems to be very much linked to election time."
Labour candidate Liz Pole also accuses the government of under investment in the region. She said: "We get taken for granted I think because they're not needing to convert voters to the Conservatives."
Eight of Devon's 10 MPs are currently Tories, with Exeter's Ben Bradshaw and Plymouth Sutton & Devonport's Luke Pollard the county's Labour representatives. The Lib Dems have not had a Devon MP since 2019.
Ms Pole said voters "do need to send a message to the government and say 'we want our fair share' because if we had our fair share of national infrastructure funding, we wouldn't only have built the [rail] line at Dawlish, we would have also built the Cullompton station long ago, dealt with the Waterloo line and so much more.
"The same thing goes for school funding. We have underfunding for school places in the south west."
In response, the Conservatives said the government "is delivering for people in Tiverton and Honiton and across the whole south west."
It says £77 million has been spent to support people in Devon during covid, protected 17,000 jobs in Tiverton and Honiton through the furlough scheme, and provided banks with guarantees for £75 million of loans to businesses in the constituency.
A party spokesperson added: "We are also investing in transport links to improve connectivity and support growth, awarding £5 million to advance plans to reopen railway stations at Cullompton as well as improving the A3030/A358 and the A30, improving connections between the south east and south west on top of securing £14.1 million of bus service improvement plan funding across Devon, to deliver transformational bus services."
The £14 million for buses is less than half the amount Devon County Council originally bid for, meaning it has had to shelve several planned improvements.
If elected next week, Ms Hurford said she is "committed to work for the people of Tiverton and Honiton from day one, working alongside the government as we build back better."