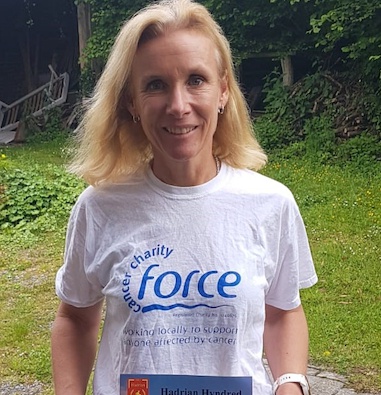 Jenny isn't 99, but she's planning hospital laps
Hospital laps planned next week
National hero Captain Tom Moore has inspired cancer specialists from the Royal Devon and Exeter Hospital to take on their own fundraising challenge.
Staff from the oncology department at the RD&E are planning to complete laps of the hospital in aid of Force Cancer Charity.
Doctors, nurses, radiographers and other healthcare professionals will form teams of at least 12 people to take on the 12-hour challenge every day from Monday to Friday next week, April 27 to May 1. During their breaks they will walk or run laps around the perimeter of the RD&E site, a distance of roughly two kilometres.
The challenge will take place between 7am and 7pm each day. Team members will set off at different times and social distancing rules will apply throughout.
Staff are paying £20 each to take part and in return they get a Force baseball cap, a T-shirt or a running vest – while stocks last.
Their entry fee will be donated to Force through an online fundraising page - virginmoneygiving.com/Team/TeamOncology - which is also open for sponsorship.
The idea of 'Laps of Honour for Force' comes from Jenny Forrest (pictured), consultant clinical oncologist and a trustee at Force. She isn't 99.