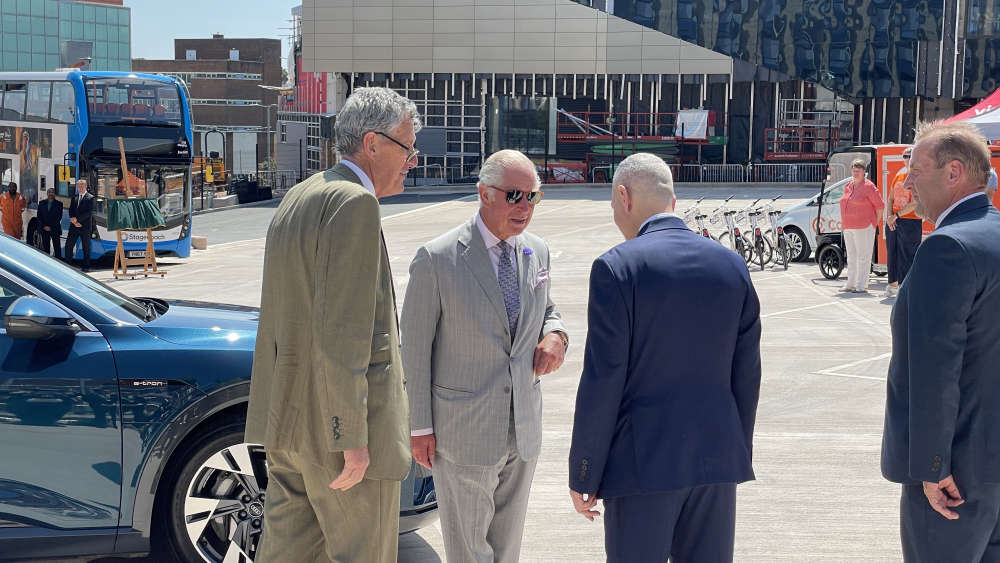 'Which is the stop for the palace?' (courtesy: Exeter City Council)
Duke of Cornwall visits new bus station (but not by bus)
The Duke and Duchess of Cornwall have been in Devon.
It's Prince Charles and Camilla's annual visit to the region, which they began by meeting guests at Exeter Cathedral, where His Royal Highness is patron of the heritage fund.
The prince then went on to the new Exeter bus station, which is operated by Stagecoach and opens to the public on Sunday.
He met long-service bus drivers as well as hearing from apprentice builders and staff involved in the construction of the neighbouring St Sidwell's Point leisure centre, which will open later this year.

Stagecoach's longest serving bus driver, Mike Prowse, who has worked for the company for almost 60 years, was introduced to the Prince and showed him a restored vintage bus, originally used in 1961, alongside Stagecoach's latest model.

His Royal Highness unveiled a plaque to commemorate the visit before he left (but not by bus). It's not known if the future monarch has ever caught a bus before.

Council Leader Phil Bialyk said he was delighted with the visit. He said: "To be able to demonstrate to Prince Charles some of the things that are happening in Exeter to deliver our Net Zero 2030 aspirations was absolutely fantastic.
"He was also able to see the brand new Exeter Bus Station, which will be open next week, and our state-of-the-art low energy leisure centre St Sidwell's Point, which will open later in the year.

"We have a great story to tell here in Exeter, and it was fantastic to be able to tell that story to the future King of England. It was an amazing day, and I am so pleased that he was able to find the time to visit us and discover more about what's happening here in Exeter."

The visit was organised under the banner of Exeter Live Better – putting quality of life at the heart of decisions for the people of Exeter.