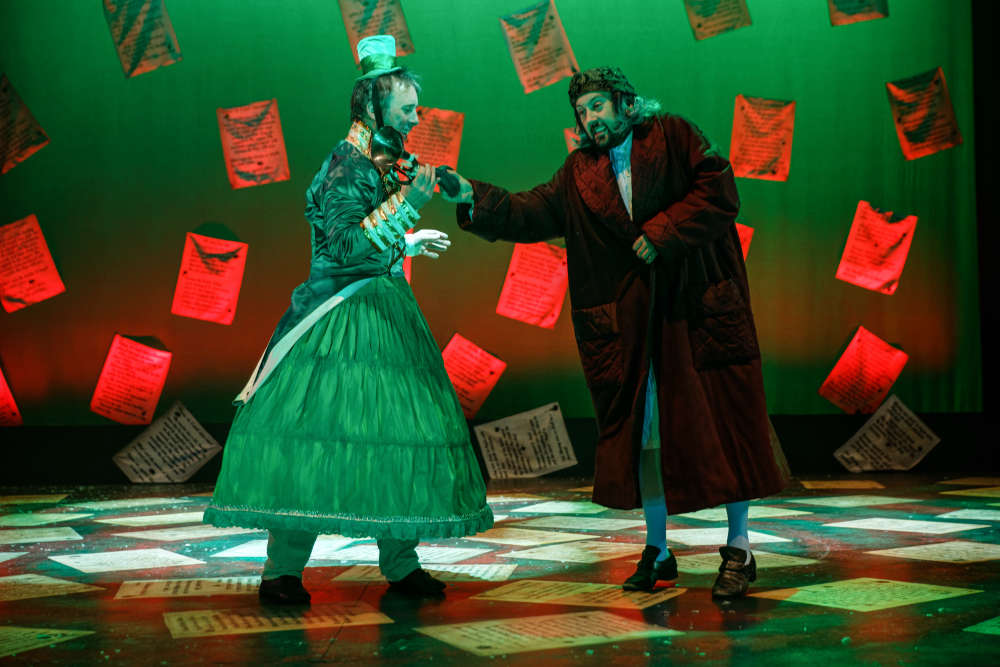 Le Navet Bete's Christmas Carol is at the Northcott (courtesy: Craig Fuller)
REVIEW: Scrooge hits Northcott stage
Is this the hardest working theatre company in the country?
The four performers in this richly funny seasonal offering seem almost hyperactive as they multi-task and play multiple roles in this version of Charles Dickens' 'A Christmas Carol' at Exeter's Northcott Theatre.
In this classic tale, the performers drive the familiar narrative of Ebenezer Scrooge and his redemption at a cracking pace and with glorious twists and turns.
It's often tongue in cheek, it's sometimes physically exhilarating, and (warning to parents of younger children) just as in the original, despite the sentimentality, it is occasionally pretty dark. Both Marley's Ghost and the Ghost of Christmas-Yet-To-Come offer genuine chills.
Devon-based Le Navet Bete tour nationally but have built up a strong following in their home county with their versions of The Three Musketeers, Treasure Island and Dracula among others.
This adaptation, directed by John Nicholson, was first staged in 2013 but is revived here with a freshness and energy that will delight those familiar with their work and win them new fans.
Nick Bunt is a querulous Scrooge and Al Dunn is his down-trodden clerk Bob. Along with Matt Freeman (possibly the tallest Tiny Tim ever) and Dan Bianchi, they make a virtue of a being a cast of just four, grabbing this familiar story and running with it. Possibly one of the funniest scenes is where Dunn plays both Mr and Mrs Cratchit much to the confusion of Freeman's Tiny Tim.
And there are also moments of lovely theatricality, such as an impoverished tenant waiting in the snow outside Scrooge's office, nicely offset shortly afterwards by a fun routine where snow is needed for cooling off. Scrooge plunging down through the night sky on a sled is also cleverly done.
Faithful to the original, this adaptation finds good opportunities for audience participation although it is not a pantomime.
At close to two-and-a-half hours, it is on the verge of being a long haul for younger families and could usefully be trimmed by 20 minutes.
And no spoilers, but for a certain generation, a tacked-on ending is particularly cheesy. You have been warned!
Le Navet Bete's 'A Christmas Carol' is at Exeter Northcott until 1 January 2022