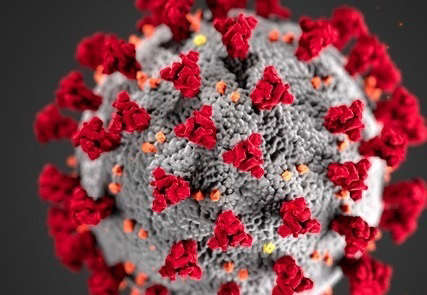 (Courtesy, LDRS, 12th Jan, 2022)
County remains below UK-wide infection rate
Covid cases have continued to increase sharply across Devon, but the county remains below the UK-wide infection rate.
Figures for the week to Thursday 6 January show the rate in Torbay rose by over 60 per cent, with increases of around a third in Plymouth and the Devon County Council area.
It continues the recent trend of rising cases locally, before which, during the first half of December, covid rates fell across Devon with the Omicron variant not spreading substantially at that time.
However since then, despite rises across the board, infections in the county remain below the current national average of 1,831 per 100,000 people. Plymouth's is closest at 1,553, while Torbay's is 1,402 and the rate in Devon is 1,204.
At a district level, North Devon recorded the largest increase, with cases going up by almost 80 per cent, meaning it now has the highest rate in Devon outside Plymouth.
West Devon and Torridge also had rises of more than 50 per cent, while all other areas saw cases go up by smaller, double-figure percentages.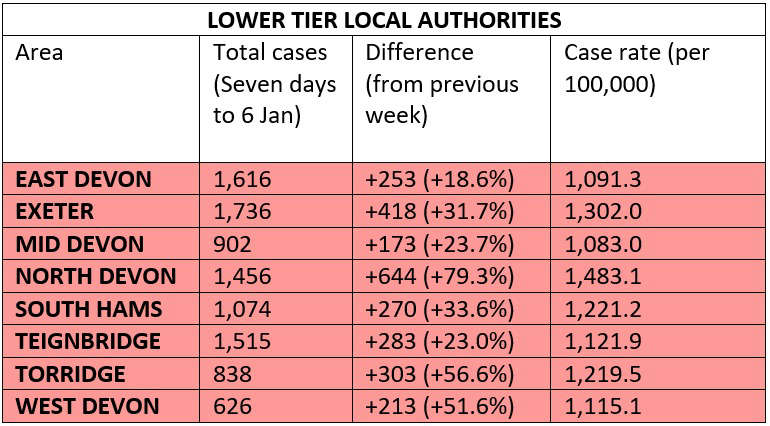 Last week, Devon's director of public health Steve Brown said the latest surge "demonstrates that coronavirus is still very much with us" and urged people to continue following guidance.
"The Omicron variant, while extremely infectious, may not be leading to the same extent to high levels of illness or death, but the health risk to people who may be immuno-supressed or who have other underlying health conditions is still extremely serious.
"Add to that the risk to health, or at best disruption to day jobs while self-isolating, for the thousands of front-line staff in health, social care and other essential workers, and such high levels of coronavirus are likely to have a dramatic impact on the delivery of the services we rely heavily upon.
"We know what helps reduce risk – it's taking up the vaccine when invited, including the booster; wearing face coverings where appropriate; self-isolating when we need to."
HOSPITALISATIONS
As of the most recent data from Tuesday 4 January, 174 patients are in Devon's hospitals with covid, an increase of over 50 from a week ago. More than half (92) are at Derriford Hospital in Plymouth.
Elsewhere, 37 are at the RD&E in Exeter, 28 in Torbay, 10 in North Devon and seven at Devon Partnership mental health trust sites. Of the total number of patients, 13 are on ventilation beds.
DEATHS
Twenty-two more people died in the county within 28 days of testing positive for covid in the latest complete weekly period (up to Wednesday 5 January). Twelve were in the Devon County Council area, six in Torbay and four in Plymouth.
A total of 1,476 people in Devon (including Plymouth and Torbay) have died within 28 days of a positive test since the pandemic began.
VACCINATIONS
The number of people aged over 12 who have received their booster (third) covid vaccination is 68 per cent in the Devon County Council area, 63 per cent in Torbay and 56 per cent in Plymouth.
Take-up for at least one dose of a vaccine is 88 per cent in the Devon County Council area, 86 per cent in Torbay and 84 per cent in Plymouth.
The proportion of people who have had two jabs is 82 per cent in Devon, 80 per cent in Torbay and 78 per cent in Plymouth.