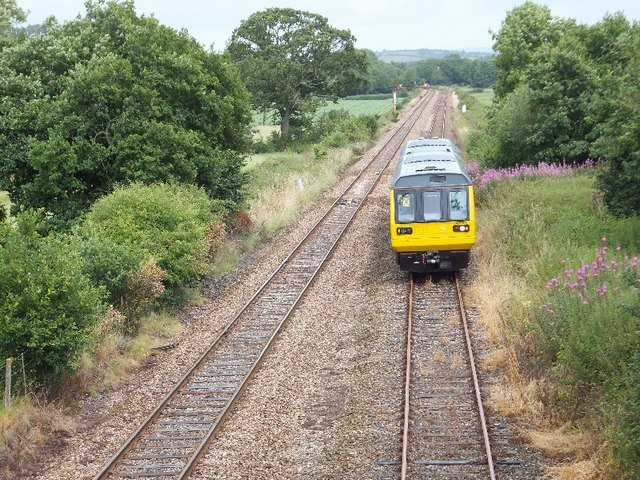 New trains are on the way
But Richard Burningham, manager of Devon and Cornwall Rail Partnership, told the Devon and Exeter Rail Project Working Party that they have stopped promoting the line as the rolling stock cannot cope with the passenger numbers.
He said: "The core aim of the partnership is to promote the use of the branch lines, to engage the community and to support economic growth and improvements. Some of these lines in the past were threatened at times, but today they are booming, and our work is about keeping that growth up.
"But we have stopped promoting the Tarka Line and advertising day trips between Barnstaple and Exeter as there is so much overcrowding that you cannot get on the trains. We want more capacity on the line as at the moment we cannot promote the line."
Cllr John Matthews added that he often found that it was standing room only on the Tarka Line at off-peak times.
Figures on the Devon and Cornwall Partnership, taken from analysis of tickets issued, show that since 2001, use of the Tarka Line has grown 239 per cent, with passenger numbers increasing from 200,000 in 2001 to 657,000 in 2016.
The Avocet Line (Exeter-Exmouth) has grown by 140 per cent, while the Tamar Valley Line (Plymouth-Gunnislake) has seen usage increase by 58 per cent.
In Cornwall, the Looe Valley Line (Liskeard-Looe) has seen growth of 99 per cent, the Atlantic Coast Line (Par-Newquay) has grown 113 per cent, the St Ives Bay Line (St-Erth-St Ives) has grown by 76 per cent, while the Maritime Line (Falmouth-Truro) is up a whopping 276 per cent.
But the meeting later heard from Lewis Ward, Assistant Regional Development Manager, Great Western Railway, that the Tarka Line was set to soon get improving rolling stock.
The Tarka Line, as well as other lines in Devon, are set to receive Class 158 trains currently being used on the Cardiff to Bristol and Portsmouth line. The trains have around 20 per cent more seating and would save on journey times.
Cllr Nick Way asked whether there were any plans to increase number of carriages on the Tarka Line this summer.
Mr Ward said that the refurbishing of trains is happening right now but work was slower than initially anticipated.
FIVE OTHER THINGS THAT WE LEARNED FROM THE MEETING
Intensive driver training that took place throughout 2018 manifested itself in crew shortages which meant that Great Western Railway were sometimes unable to run all the scheduled trains is drawing to a close. Mr Ward said that customers should be seeing less of it and that they should see the benefits in 2019 after the transition year of 2018
The gate line at Exeter St Davids station has been widened, and the work was done under budget. Further work to improve the experience of travelling through the station in a rush is planned
CCTV has been installed at Polsloe Bridge, Crediton, Exeter St Thomas and Exmouth stations, while wi-fi has been installed at Polsloe Bridge, Crediton and Digby and Sowton, and a real time trains indicator board at Polsloe Bride. Mr Ward said that customers feel more secure about their safety and it enables us to crime detect, as well as providing more information for customers.
The steep footpath familiar to the thousands of people who have ever walked from Exeter St David's Station to the city centre is to get a makeover. The path, known as St Clement's Lane, will be resurfaced to provide better grip, the orange light from the street lights will be replaced with white light from LED lanterns, the wobbly central handrail will be replaced with a stainless steel version including integrated lights, and there will be a matching wall-mounted handrail, there will be a new lit stainless steel frame at the entrance, and trees will be cut back to create more light and space and low wall where people can sit will have railings fitted to discourage groups gathering and anti-social behaviour.
Performance measures have improved in recent months as a result of the Filton Bank Four Tracking and the electrification of the line around Newbury. Mr Ward said that the benefits are better acceleration and braking of trains so there has been an improvement of punctuality of the long distance services, which is only expected to improve 'now we are out of the dreaded leaf fall season'