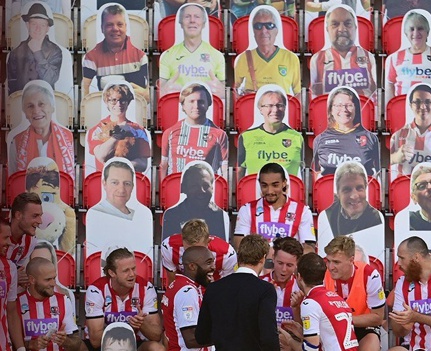 Fans unlikely to invade pitch
After more than 1,200 Exeter City fans paid £25 to have plastic cutouts of themselves made for the League Two play-off semi-final against Colchester this week, the life-size figures have a greater prospect in sight.
With the semi-final safely navigated, winning 3-2 on aggregate, players, coaches and cutouts will be heading to Wembley on Monday for the final against Northampton.
Exeter City Supporters' Trust, the fans' group that owns the club, is covering the cost of transporting the 1,256 cutouts to North London - as well as any more bought before 6pm on Thursday. The cutouts are made from recyclable polypropylene. They're toxin-free so won't leach chemicals into the environment.
Matt Taylor, Exeter City manager, said: "Although it was a surreal experience to play the match at St James Park without crowds, seeing all those faces in the stand was amazing for the lads. We're really grateful to the Supporters' Trust for donating the cost of delivering the cut outs to Wembley – our club really is something special and our fans are too, and this feels like a great way to thank them."
Exeter City marketing manager Scott Palfrey added: "We have been absolutely blown away by the support the fans have given us and also the amazing reaction we've had to this. We're looking forward to seeing how many more we can get up to Wembley – to play their part in this massive game for our club.'