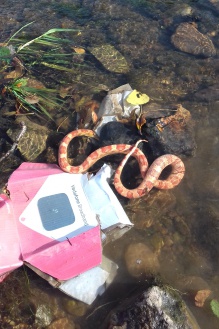 RSPCA is looking for information
A member of the public discovered the box on Wednesday 24th of October in a shallow river in Ottery st Mary.

RSPCA animal welfare officer Alison Sparkes said: "It's an orange corn snake of around three-feet long, found in a Vodafone router box, in the shallow river, weighed down with stones.

"We would like to hear from anyone who can shed any light on what happened or how this snake came to be dumped in such a terrible state. Anyone with information can call our appeal line on 0300 123 8018.

"Reptiles appear to have increased in popularity as pets and the number of related incidents dealt with by the RSPCA has risen in recent years. Sadly as their popularity as pets increases so does the number of calls we receive about them and the number of calls we receive relating to abandoned, stray or neglected reptiles have increased across the country.

"We are finding that many people are unaware of how much of a commitment these animals are when they take them on, which we believe may be why we are rescuing hundreds of reptiles every year.

"We have produced care sheets for a number of exotic pet species, they can be found on our website"