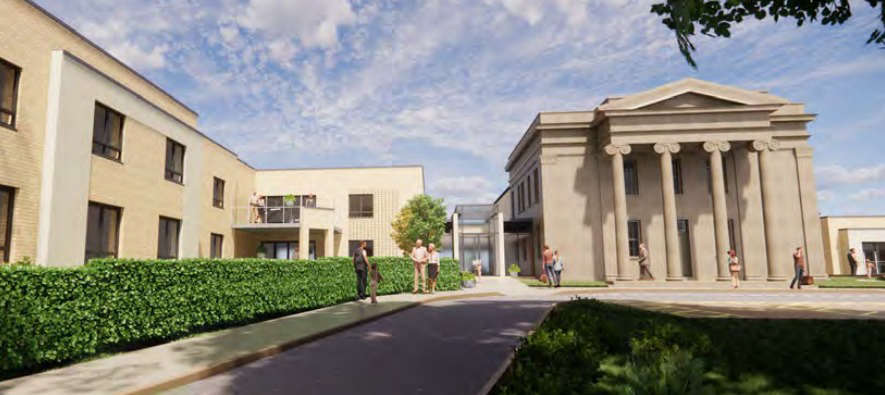 Artist's impression of the proposed Honeylands development
But neighbouring school for children with disabilities upset
A derelict historic building in Exeter will become a new care home after plans were approved by councillors.
The former Honeylands Children's Centre on Pinhoe Road operated until 2012, when it became surplus to requirements by the NHS and has since fallen into disrepair.
As part of its redevelopment into a 64-bed care home, the grade two listed main building – first built in the seventeeth century – will be retained, while existing extensions will be demolished to make way for two new connecting wings.
There will also be new vehicle access built in from Pinhoe Road – deemed safe by highways officers – with a loop road being constructed in the site to accommodate 27 parking spaces.
Exeter City Council's planning committee approved the plan on Monday [25 July] despite strong opposition from neighbouring Vranch House School, which provides education, treatment, and welfare for children with physical difficulties.
The school's representative, Rebecca Wheeler, said the development would be "detrimental to the children we serve and the service we offer."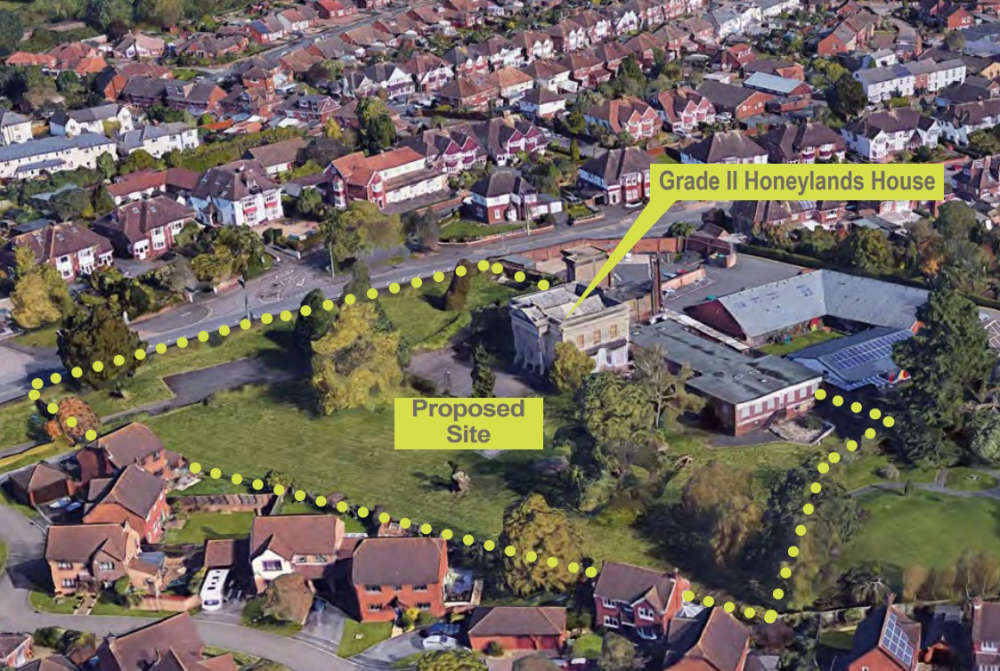 The location of the proposed Honeylands development from planning documents submitted to Exeter City Council
She claimed the land and the building were donated to the city of Exeter in the 1920s "explicitly for use as a children's medical facility," which it was until 2012 when it closed due to requiring "substantial repairs."
Ms Wheeler said it was "difficult to understand" why the site cannot continue to be used for this purpose given the demands on Exeter's children's services are expanding "dramatically," with an increasing population and more premature babies surviving.
She also raised concerns about road safety, the potential impact of the new development on patient confidentiality, and how it could cause problems for the increasing number of children with autism for whom the school cares.
In addition, councillors were told: "Our parents feel that the intended use of the development, which is end-of-life care, is unfortunately extremely sensitive next door to a school and centre that serves many children with life-limiting illnesses, some of whom sadly die during their time with us."
Vranch House did explore purchasing the site itself, Ms Wheeler added, but efforts proved unsuccessful.
Applicant Andy Marshall played down the privacy concerns and defended the design. He claimed the school was asked to "articulate exactly" what their concerns were but had "not really been able to get a handle on exactly what those issues are."
He added the care home would be a "quiet neighbour" and believed the two uses would work well next to each other.
Mr Marshall said the facility is "desperately needed by virtue of the increasingly-ageing local population," and claimed 550 additional care beds are needed in Exeter.
"This site … is perfectly suited to help meet those needs, in a sustainable and accessible location."
As well as freeing up "approximately 35 family homes" and creating about 60 construction and long-term jobs, he said the proposal also restores the "derelict and deteriorating" grade two listed Honeylands House.
"Our plan is to conserve the original features, remove the unsympathetic additions – the tower and the two-storey extensions – and develop the site in a more sensitive manner."
He added: "Residents are likely to move from elsewhere within the city, be cared for by round-the-clock 24 hour personal and nursing care on the premises, thus actually reducing the impact on GP services."
The planning report claimed the care home operator has its own private GP contract so would have "no impact upon local capacity." However this was disputed by NHS Devon who asked for a financial contribution towards local health services.
Councillor Rob Hannaford (Labour, Exwick) also questioned the claim, asking for a guarantee that residents would not register with NHS GP practices.
Mr Marshall could not offer the "cast iron" guarantee due to his company still being in confidential talks with a potential operator. Therefore, he was open to discuss making the payment towards healthcare.
Discussing the plan, Councillor Rachel Sutton (Labour, Exwick) called it a "valid application" and said: "As far as I can see. There are no planning grounds on which it would be reasonable to actually turn this down."
"Any development on this site – next to a school which has pupils with very particular requires is, I suspect, going to be disruptive whatever happens on that site. And I only hope the developers will stay in contact with the school and be sympathetic to them," she added.
Councillor Bob Foale (Labour, Alphington) wanted to defer the application until the legality of the covenant mentioned by Ms Wheeler was clarified and to examine the potential impact on the NHS, but he was told these would not be sufficient reasons.
"So I can't object to it but I certainly can't support this application," he said.
However, Councillor Michael Mitchell (Lib Dem, Duryard & St James) was in favour, saying "there is a need for this. It is a derelict site."
He was also pleased with commitments made by Mr Marshall that the development would include air source heat pumps, solar panels and electric vehicle charging points.
"I just hope that there is a neighbourliness between the developer and Vranch House so that many of the immediate problems in regard to the development of the site can at least lead to a decent working relationship, so matters are resolved instantly rather than weeks or months later," Cllr Mitchell said.
The committee approved the application by seven votes to two.